Spotlight Programs at DOXA
Image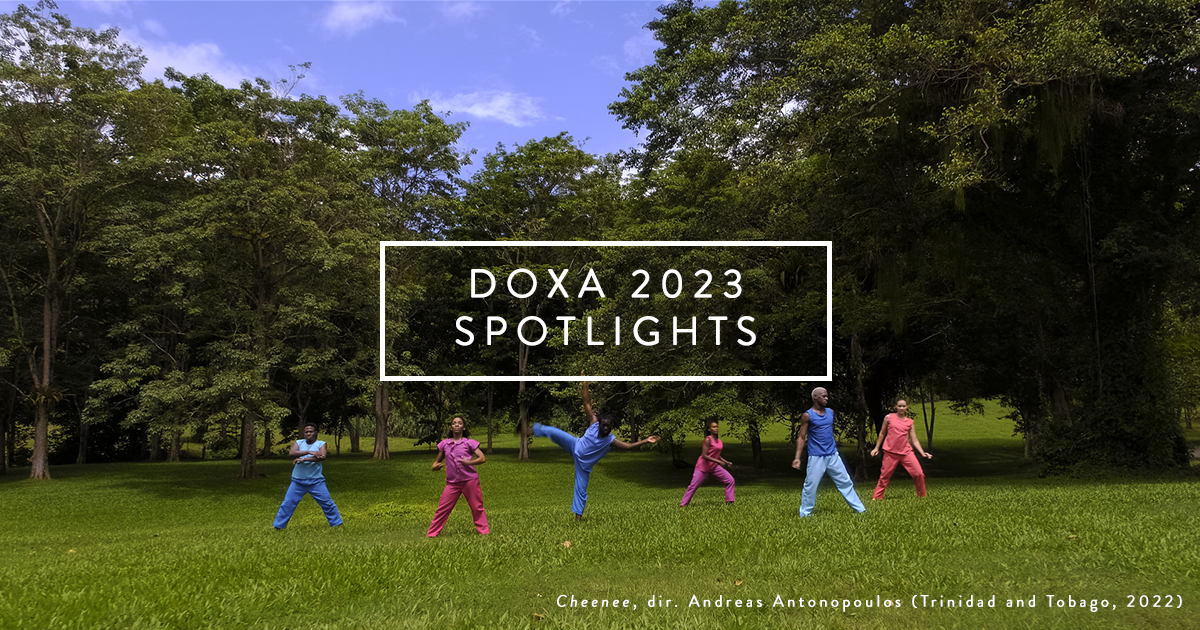 As German dancer Pina Bausch once advised: "Dance, dance otherwise we are lost." In an effort to make sense of the world, the films in this spotlight program meld the disciplines of dance and filmmaking, strengthening relationships between ancestors, culture and community in the process. Films include: Paloma Zapata's La Singla, which follows the mysterious career of Deaf flamenco dancer Anotnia Singla; A Way To B, directed by Jos de Putter and Clara van Gool, about Barcelona's Liant la Troca dance collective made up of artists with diverse physical disabilities; Andreas Antonopoulos's film about sugar's role in the forced relocation of thousands of Indians to the Caribbean, titled Cheenee; and Closing Presentation Kite Zo A (Leave the Bones), which weaves together ancestral veneration, choreographed dance and interviews to tell a story of fighting back against colonial oppression in Haiti.
For further details on this spotlight, including where to purchase screening tickets, click here.
Thin Places presents a collection of films exploring liminal and precarious zones. "There are places," says Irish writer Kerri ní Dochartaigh, "both hollowed and hallowed, all in one." Thin places, as they are known in the Celtic tradition, are locales where a sense of Heaven and Earth meet. But in this dense collection of films, Hell is present too. The films in this spotlight include: Theo Montoya's Anhell69—part queer ghost story, part ode to Colombian cinema, that bores its gaze into the streets of Medellín following a group of friends; Adnane Baraka's Fragments from Heaven, about a nomad and a scientist who both follow a distinct path through haunting and beautiful desert landscapes; Khoa Lê's Má Sài Gòn (Mother Saigon), which constructs a dynamic ode to Saigon's Queer and Trans communities through a series of intimate character portraits; North Circular directed by Luke McManus, a visually striking journey across the northern side of Dublin and the historically working class North Circular Road, anchored by traditional Irish music; Mstyslav Chernov's journalistic and heavy-hitting 20 Days in Mariupol, which follows three journalists as they fight to expose images of a broken city, capturing in vivid detail the escalating atrocities of Russia's invasion of Ukraine; the debut feature of Canadian filmmaker Terra Long, called Feet in Water, Head on Fire, which beautifully traces the communities and vegetation shaping the Coachella Valley region; Excess Will Save Us (Morgane Dziurla-Petit) which blurs the line between fiction and documentary and introduces us to the eccentric people in a small farming community where entrenched xenophobia and mistrust warp reality; Nishtha Jain's The Golden Thread, which follows the production of jute fibre from farm, harvest and transport, to the jute mills of West Bengal and the workers who toil within the industry; Veranada, Dominique Chaumont's study of a lone herder migrating his flock in the Argentinian Andes, as the landscape withers from unprecedented drought; and Kokomo City, directed by D. Smith, which documents the stories of four Black transgender sex workers in New York and Georgia as they share reflections on tangled desires, far-reaching taboos and gender's many meanings.
For further details on this spotlight, including where to purchase screening tickets, click here.
•••
Committed to cultivating curiosity and critical thought, DOXA 2023 delivers some of the very best in contemporary documentary cinema over 11 days. DOXA Documentary Film Festival runs May 4-14, 2023, offering an exceptional selection of films, filmmaker Q+A's and Industry events. Select films will be available to stream online after festival dates, between May 15 thru 24, unless otherwise specified. Online films are geo-blocked to Canada and virtual tickets will be limited. Select screenings will include live and pre-recorded filmmaker Q+As and extended discussions. Festival tickets and passes are on sale now! For further information, call the DOXA office at 604.646.3200.
DOXA is presented by The Documentary Media Society, a Vancouver-based non-profit, charitable society. DOXA is presented on unceded xʷməθkʷəy̓əm (Musqueam), Skwxwú7mesh (Squamish) and Sel̓íl̓witulh (Tsleil-Waututh) territory.