Image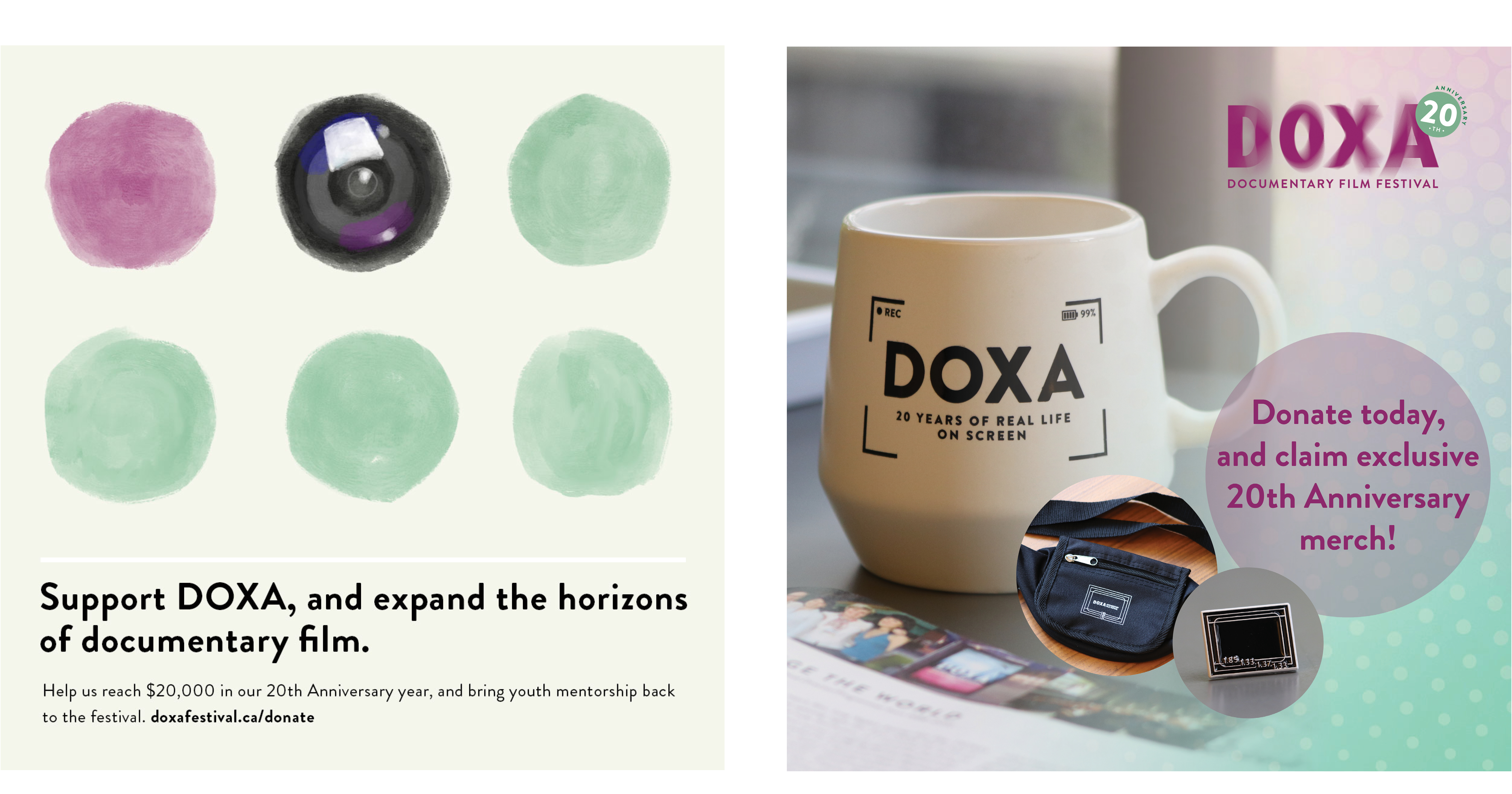 DOXA is committed to cultivating curiosity and fostering a local and international community of documentary cinema lovers.
We bring together audiences, filmmakers, and diverse cultural communities through the presentation of outstanding documentary work from around the globe. Through screenings, panel discussions, workshops and educational initiatives, DOXA facilitates a cinema culture that is curious, inventive and bold. The festival was established in 2000 by the Documentary Media Society, and our mission then, as it is now, is to support a better understanding of the complexity of our times through engaging the public in documentary media as an art form.
• • •
We have started a donation drive to raise $20,000 in our 20th Anniversary year! Our ultimate goal is to continue presenting independent and innovative documentaries to Vancouver audiences, while also enabling the growth of documentary cinema as an art and a craft. Years ago, DOXA facilitated a youth mentorship program called DOXA Connections (formerly Connexions Youth Forum 2006-2010, then the Kris Anderson Youth Connexions Forum from 2011 to 2013), which ran as an educational program designed to foster documentary filmmaking and storytelling skills in emerging filmmakers who face barriers in attaining their career goals.
The money raised during our 20th anniversary year will go towards rebuilding the DOXA Connections program in the years to come. DOXA Connection's curriculum will meet emerging filmmakers where they're at and address participants' specific interests; the program's coordinator and various mentors will work with each participant to develop a detailed plan, pushing their projects forward. Investing in the early development of emerging filmmakers is critical to creating the equitable, diverse documentary landscape of the future.
• • •
This has been an extraordinarily challenging year for DOXA, as well as many other arts organizations. We understand that these are precarious financial circumstances for many in our community; any donation made to DOXA during this time is especially meaningful. Donations of $20.00 or more receive a tax receipt.
Making space for social change, fostering community, and championing the power of documentary cinema are at the core of what we do—and we couldn't do this work without your support.
 
INTERESTED IN DOXA MERCH?
Rep DOXA year-round with our limited edition 20th Anniversary merchandise. We've got fanny packs, mugs, lapel pins and more!
 
ENAMEL PIN / MAGNET / STICKER PACK  •  $15
One 0.75" enamel lapel pin in our classic aspect ratio design, a DOXA fridge magnet, and a handful of DOXA logo stickers!
DOXA MUG  •  $25
White in colour, with black text and camcorder design, in a unique geometric shape.
DOXA FANNY PACK  •  $30
A black fanny pack (lots of pockets!) with DOXA logo and aspect ratio design. 
THE COMPLETE DOXA PACKAGE  •  $60
Everything listed above!
To claim your exclusive festival merchandise, please click on the button below:
 
Feel free to reach out if you have any questions. All inquiries can be directed to Development & Communications Manager, Sarah Bakke at sarah[at]doxafestival.ca. Available in CANADA ONLY. Please note that receiving merch exempts you from a valid tax receipt. While quantities last.
• • •
THANK YOU TO OUR DONORS
DOXA is honoured and grateful for every donation received throughout the year, whether it be a few dollars or thousands. We thank each and every donor for supporting our efforts in presenting the best in documentary. Through individual donations, DOXA will continue to build a film culture that informs, inspires, and educates. See a list of our donors here. 
DOXA Documentary Film Festival is presented by The Documentary Media Society, a registered charity.
Charity Number: 854305331RR0001