DOXA 2021 Rated Y for Youth Callout
Image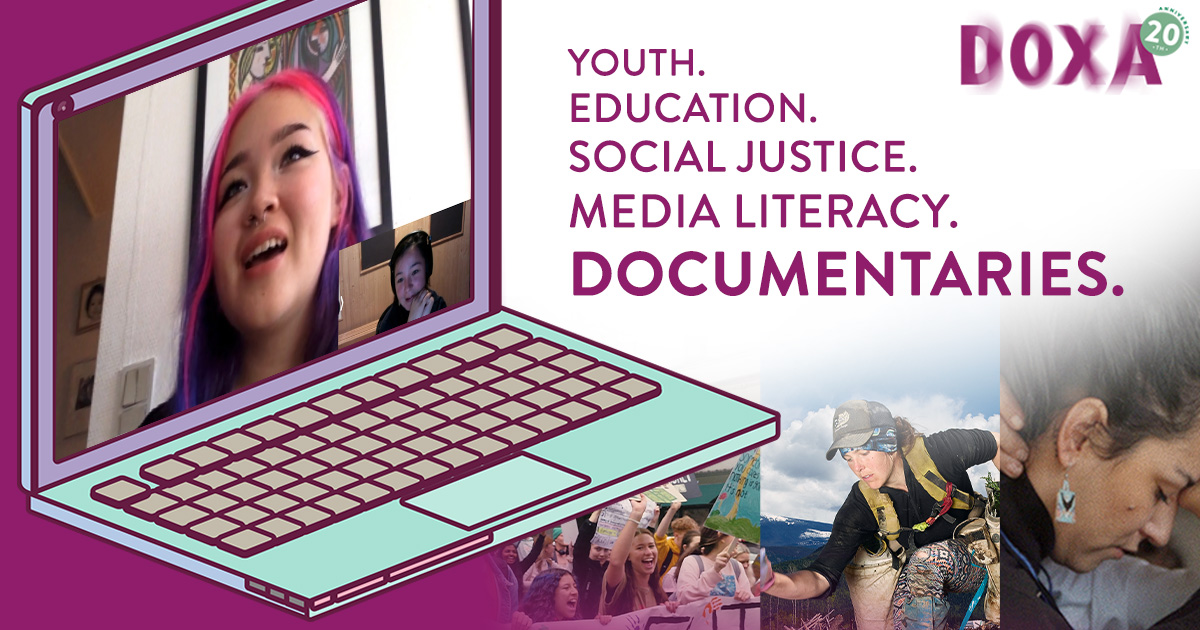 After a brief hiatus in 2020, Rated Y for Youth is back for its 12th edition! Rated Y for Youth is an outreach program for school-aged students that facilitates critical dialogue and media literacy skills through documentary film. From May 6-16, DOXA offers a slate of thought-proving feature-length films, a shorts program, pre-recorded discussions with filmmakers, and a complementary Study Guide to support critical conversations in the classroom.
This year, Rated Y for Youth films address issues such as climate change and environmental justice, intergenerational trauma, deportation and immigration, Indigenous art and reconciliation, gender identity and allyship, and global political movements.
----------- FILMS -----------
Firestarter - The Story of Bangarra
Wayne Blair and Nel Minchin, Australia, 2020, 97 mins 
30 years ago, three young Aboriginal brothers helped transform a dance company into a First Nations cultural powerhouse. Through the eyes of Stephen, David and Russell Page, the story of Bangarra Dance Theatre is one of reclamation, intergenerational trauma and, crucially, the power of art as an agent of social change and healing. 
Rita Leistner, Canada, 2021, 91 mins 
War photographer and director Rita Leistner joins a community of tree planters as they perform the backbreaking labour of replanting logging cut blocks in BC. Forest for the Trees is a coming of age story that follows the lives of tree planters as they overcome grueling conditions and emotional difficulties to bring back the forest. 
Sean Horlor and Steve J. Adams, Canada, 2021, 80 mins 
When a group of queer strangers in Vancouver unite to support a gay Ugandan man seeking asylum in Canada, unexpected challenges lead them down a tense, emotional road in search of personal freedom. 
Yael Bridge, US, 2020, 82 mins 
Since Bernie Sanders' presidential primary run in 2016, thousands of people have joined the Democratic Socialists of America, and millions more have voted for socialist politicians. But socialism remains plagued by conflicting definitions. Is it dictatorship or democracy? Norway or Venezuela? Reform or revolution?
From local skateparks and protests to deportations and endangered language preservation, this collection of short films explores the personal and collective reckonings of people working towards environmental change, immigration justice and Indigenous resilience. 
Maya Micaela Cueva, US, 2020, 17 mins
Alejandra Pablo, a criminalized community organizer and unapologetic immigrant, is preparing for the biggest moment in her life—her deportation case. As her court date nears, this film follows Alejandra in her work for immigration and reproductive justice, all the while reckoning with a system threatening to tear her family apart.
Amar Chebib, Canada, 2021, 16 mins
Joe Buffalo is an Indigenous skateboard legend. He's also a residential school survivor. As he emerges from a traumatic childhood and decades of addiction, local director Amar Chebib presents an intimate portrait of Joe's journey to fulfill his lifelong dream of turning pro.
Jaime Leigh Gianopoulos and Cláudio Cruz, Canada, 2020, 24 mins
"We are unstoppable, another world is possible!" chant the Sustainabiliteens, a group of young environmental activists who, in 2019, organized the largest climate strike in Vancouver's history. What About Our Future? chronicles the everyday lives of these youth leaders as they organize, mobilize and pressurize for climate justice.
Inuit Languages in the 21st Century
Ulivia Uviluk, Canada, 2019, 10 mins
What does language preservation look like in the digital age? True to form, young Inuit director Ulivia Ulivuk's multimedia film explores the possibilities the internet offers for Inuktitut, a complex language currently under threat. Ulivuk asks, "Are there solutions so that these technologies are allies and not enemies?"
If you're a Teacher or Educator interested (or know someone who would be!) in bringing DOXA virtually into the classroom in May 2021, please email Dharra Budicha at [email protected].