Image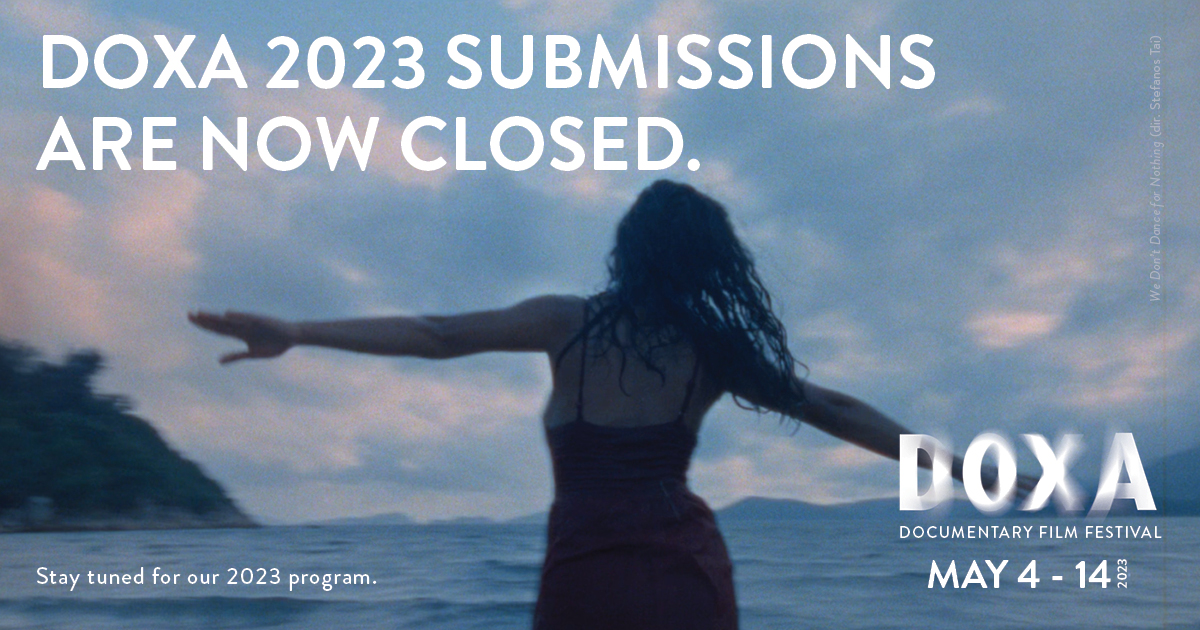 DOXA is an international documentary festival featuring new work selected by a jury, as well as thematic programming presented by independent curators. We are seeking submissions of short to feature-length documentaries for our 22nd annual festival, happening May 4 thru May 14, 2023. This call for submissions is for recently completed documentary films. Awards categories include Feature Documentary, Short Documentary, Canadian Documentary, and Nigel Moore Award for Youth Programming.
In light of the ongoing COVID-19 pandemic, DOXA anticipates a hybrid festival experience which will include both online and theatrical screenings. In-person theatrical screenings will take place in accordance with the health and safety guidelines set out by our public health authorities. As the DOXA board and staff continue to closely monitor the national and global situation regarding COVID-19, we will adapt our festival accordingly to expand or reduce in-person events, to ensure the safety of our community.
SCHEDULE & FEES 
Early Bird Submissions
Fees: $25 International Films / $15 Canadian Films
Deadline: November 5, 2022
Regular Submissions
Fees: $40 International Films / $30 Canadian Films
Deadline: December 15, 2022
Late Submissions
Fees: $55 International Films / $45 Canadian Films
Deadline: January 6, 2023
•••
GUIDELINES 
Projects completed after January 1, 2022 will be prioritized.
Projects that have not screened (theatrical, online or broadcast) to audiences in Vancouver B.C. audiences prior to the festival will be prioritized.
You may submit with an online screener.  Please do not send DVD or Blu-Ray.
Rough cuts are eligible ONLY IF final cuts will be available by March 14, 2023.
Work produced in languages other than English must be subtitled in English.
Please enclose a brief synopsis and screening history. 
More weight is given to projects which do not take a conventional journalistic or commercial approach.
Fee waivers are available for Indigenous filmmakers. Please email sarah.ouazzani [at] doxafestival.ca for more information.
All entrants will be notified by April 4, 2023
DOXA Documentary Film Festival is hereby granted the right to utilize an excerpt from any film (or film still) submitted and accepted for exhibition at the Festival for promotional purposes.
The individual or corporation submitting the film hereby warrants that it is authorized to commit the film for screening, and understands and accepts these requirements and regulations. The undersigned shall indemnify and hold harmless The Documentary Media Society ("DOXA Documentary Film Festival"), its Board of Directors, Employees, and Agents, from and against any and all claims, liabilities, losses, damages, and expenses (including but not limited to attorney's fees, and costs of the court) which may be incurred by reason of any claim involving copyright, trademark, credits, publicity, screening, and loss of or damage to the screening videos entered.
DOXA aims to pay all independent filmmakers selected through the submission process a screening fee and/or assist with travel/accommodations to attend the festival. 
HOW TO SUBMIT
Use the FilmFreeway service. Film details and payment can be submitted directly though FilmFreeway.
FILM SUBMISSIONS FOR 2023 ARE NOW CLOSED.