Image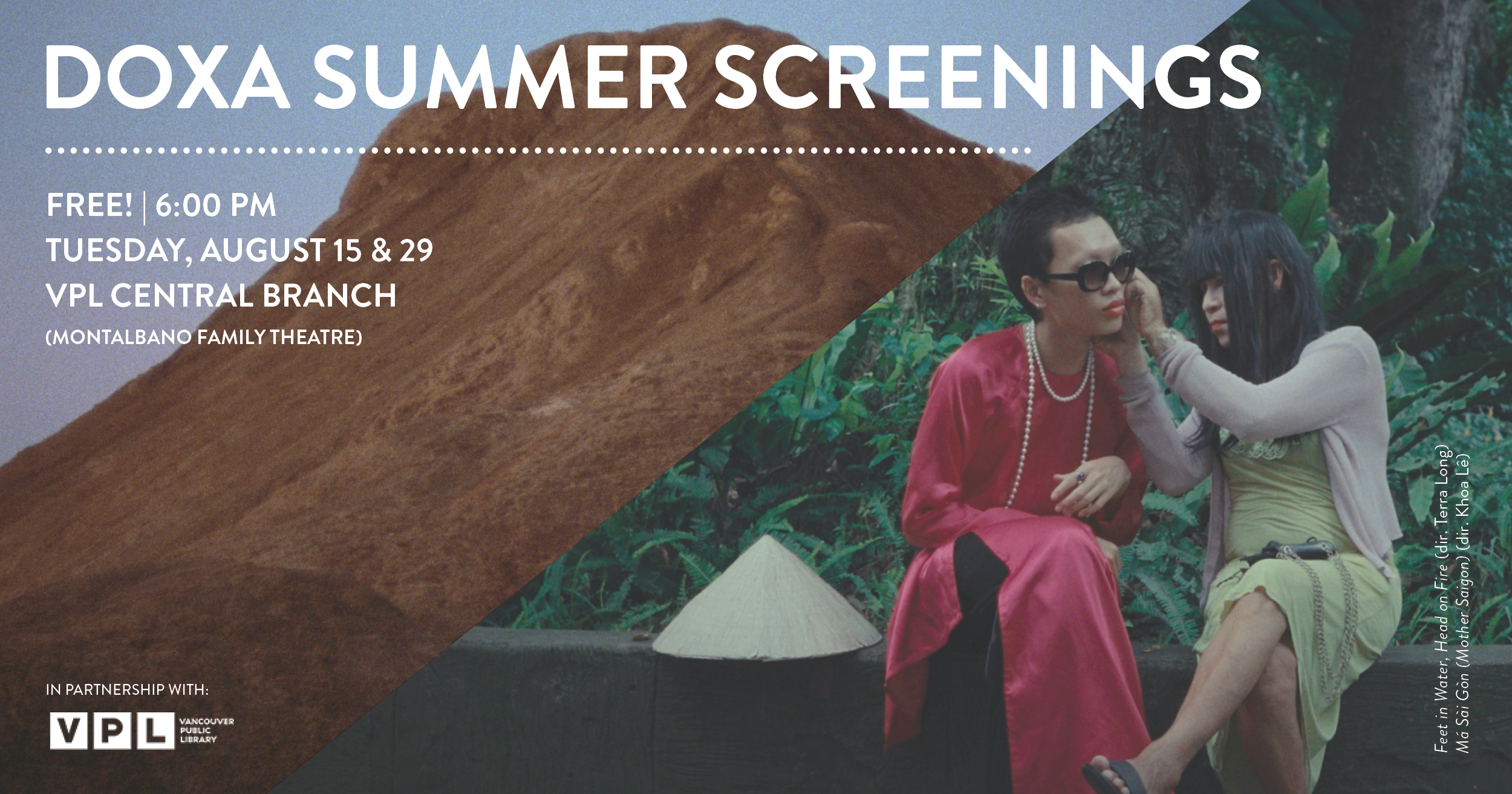 DOXA's Summer Screenings are returning!
FREE to attend | When: Aug. 15 and 29 @ 6:00 PM | Where: VPL Central Branch (350 W Georgia St), Montalbano Family Theatre
Join us as we bring back two outstanding films from our 2023 festival! We're proud to present two summer screenings at the Vancouver Public Library. On Tuesday, August 15 we're bringing back Khoa Lê's Má Sài Gòn (Mother Saigon), winner of the 2023 Colin Low Award for Best Canadian Director. And on Tuesday, August 29 we'll be screening Terra Long's Feet in Water, Head on Fire, a DOXA 2023 favourite.
Both events are FREE to attend! Quite possibly the perfect evening for any doc lover. Screenings will start at 6:00 PM, and will take place in the Montalbano Family Theatre on level 8 of VPL's Central Branch. Seating is limited, so we recommend arriving early!
Did you attend one or both of our Summer Screenings? We want to hear your feedback! Share your thoughts via this survey (monitored by the VPL).
•••
Má Sài Gòn (Mother Saigon) | Tuesday, August 15
Through an intimate series of character portraits, Má Sài Gòn constructs a dynamic ode to Saigon's Queer and Trans communities. Director Khoa Lê follows the lives of different residents as they navigate their vibrant yet melancholic city, full of beautiful and complex relationships. Through an exploration of love, belonging and the need to connect, a hopeful vision of the future begins to surface. This colourful film offers glimpses of a Saigon where the Queer community can thrive and live lives surrounded by love.
Feet in Water, Head on Fire | Tuesday, August 29
Terra Long's feature debut is a breathtaking portrait of California's Coachella Valley that is both anchored in the specifics of place and community, while freely exploring the limits of cinematic time and space. Shaped by seismic forces of the San Andreas Fault, the Coachella Valley is home to an agricultural community built around the date palm trees introduced to the region in the early 1900s. Today, the land and its people face combined threats from economic upheaval, US immigration policy and climate change. With an elliptical grace, Long's film spans vast expanses of geological time and sweeping desert landscapes into extreme close-ups of the region's plant and insect life, where microscopic views of cellular biology trace intimate stories of human connection. Beautifully shot on 16mm film and featuring hand-processed techniques that incorporate plants native to the Coachella Valley into the film, Long's documentary is grounded in place even on a material level.
•••
Accessibility information - VPL Central Branch:
Street-level access grade Promenade entrance, button-enabled automatic doors
Entrance doors to library are open
Low service counter at check-in desk and information desk
Elevators and escalators to all floors
Mobility device-accessible washrooms (all floors)
Single unit washroom large enough to accommodate a person in a wheelchair or on a gurney with their attendant (floor 2 - key at information desk)
Underground designated parking with elevator access
HandyDART stop on Hamilton Street with elevator access to Robson Street entrance
Designated parking and elevator to Promenade across from entrance
Bus stops on Robson Street entrance to Promenade via an elevator at Robson and Hamilton Streets
The Montalbano Family Theatre has a capacity of 80 people (77 fixed seats and 3 wheelchair accessible spaces)
Masks will be provided at the venue for those who wish to wear them
For more information on venue accessibility, including how to contact the library staff with specific questions, click here.
Presented in partnership with the Vancouver Public Library. These screenings are hosted on the unceded (stolen) territories of the xʷməθkʷəy̓əm (Musqueam), Skwxwú7mesh (Squamish) and Sel̓íl̓witulh (Tsleil-Waututh) peoples.