Introducing the 2023 Connexions Mentees
Image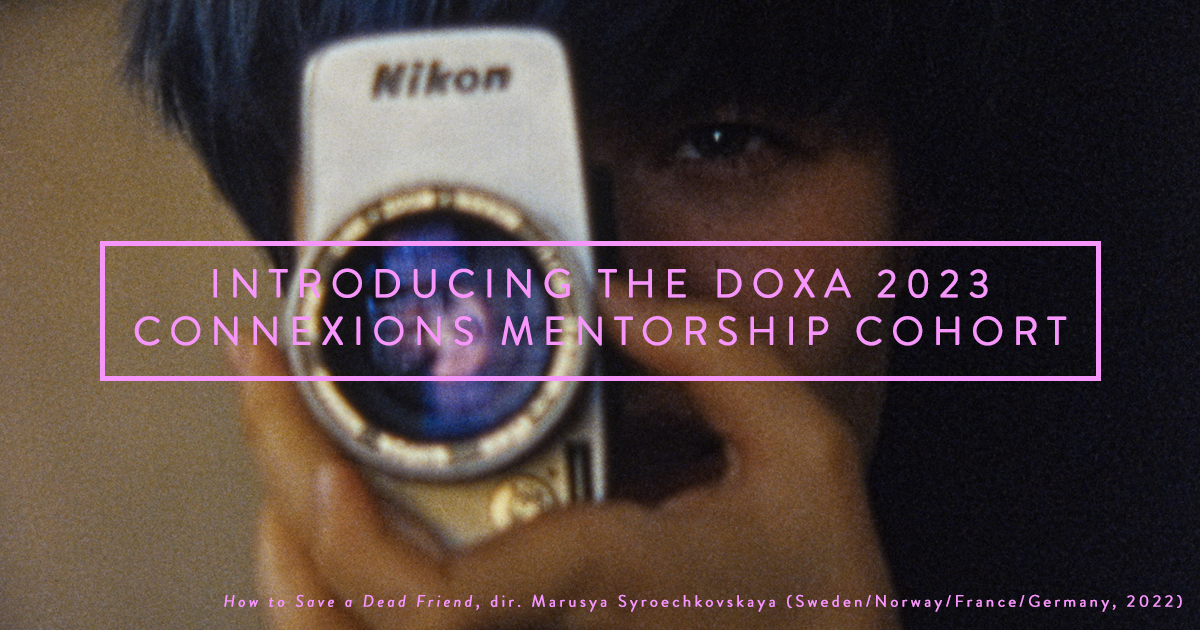 We are delighted to announce the participants of the inaugural Kris Anderson Connexions Mentorship Program. The program facilitates one-on-one mentorship between experienced documentary filmmakers and emerging filmmakers, and creates a space for participants to discuss their creative practices. The cohort will also be attending DOXA 2023 film screenings and participating in DOXA Industry (May 6-16). Keep reading to learn more about them!
•••
Monica Cheema (she/her) is a filmmaker based out of Surrey, BC. She works as a researcher for the City of Vancouver, where she writes community-engaged reports about Historical Discrimination Against People of South Asian descent, and as an artist-in-residence for Vancouver School Board, where she invites young people to use storytelling as a tool to think about the past, present, and future. Her most recent short film is an experimental portrait of Paldi, a historic mill settlement often described as a ghost town on the East Coast of Vancouver Island, now home to a rich community archive housing stories about labor, loss, discrimination, cultural memory, and resilience. She is most excited by films that transgress genre conventions, threading fiction and non-fiction to create something new and surreal in the process.
Olivia Dreisinger (she/her, b. 1991) is a disabled artist, scholar, and writer. Her own fluctuating physical abilities often dictate how she produces work—a process that regularly leads her to new and generative mediums to explore. Her work has been supported by Canada Council for the Arts and BC Arts Council. In 2021, she received the Emerging Digital Artist Award from EQ Bank. Currently, she is pursuing a PhD at the University of British Columbia in the Rhetoric of Health and Medicine.
Sarah Genge (they/she) is an emerging filmmaker who lives and creates on the ancestral, occupied traditional lands of the Squamish, Tsleil-Waututh, and Musqueam nations. They are obsessed with the ability of time-based mediums to present collections, multiple perspectives, and contradictions. Above all else, they want to showcase brave stories of everyday people.
Özgün Gündüz (she/they) is a Turkish-Canadian emerging documentary filmmaker and DOC BC YT NT board member based in unceded Coast Salish territories. She holds a BA in sociology and political science and an MBA graduate degree. During her studies, she worked as an organizing committee member at the Istanbul 1001 International Documentary Film Festival. Before transitioning into documentary producing in 2021, she worked at global media and research agencies for over a decade. Özgün was among the 10 emerging producers selected for CMPA's 2021 Producers Mentorship program. Her first short documentary, Weltschmerz (2021) received support from TELUS and screened at international festivals.
Erin Lum (she/her) is a Chinese Canadian emerging artist based on unceded Musqueam, Squamish, and Tsleil-Waututh land Vancouver, BC. Her artistic practice is mainly centered around dance, filmmaking, and writing, and exploring how these practices intertwine. Erin has co-directed and performed in two of her own dance-based films, Zì Jǐ (2020) and Something To Forget Me By (2022), which have screened internationally. She is currently pursuing her undergrad in Sociology and Communications at SFU and works as the Youth Programmer at F-O-R-M, an international movement-on-screen festival that centers youth and emerging artists. Most recently, Erin created a mixed-media project entitled "Just By Existing" that was exhibited at the Art Gallery at Evergreen (Coquitlam) from July to September 2022. She is deeply honoured and excited to be a part of DOXA's Kris Anderson Connexions Mentorship!
Sonia Medel (she/her/they) is an interdisciplinary feminist curator, researcher, and artist. She is completing a PhD in Education at the University of British Columbia. Her dissertation is a creative-scholarly analysis of the (de)colonial impact of Latin American women artists and programmers on the creative sector in Canada. Medel's co-directed short documentary project, From Chile to Canada: Media Herstories, premiered at the 2022 Vancouver International Film Festival and is now making its way around the international film festival circuit. Currently she is working on a series of short movement films and undergoing research and development for her first feature documentary film for which she is happy to welcome DOXA's mentorship. This year she is grateful to form part of DOXA as one of the Kris Anderson Connexions Mentorship Program mentees and as moderator for the discussion to follow the work-in-progress screening of Norita, a documentary directed by Jayson McNamara and guest curated by Avi Lewis and Naomi Klein. A visibly racialized Indigenous-Afro-European descendant Latina, the child of a Chilean exile father and an immigrant Peruvian mother, Medel is grateful to the Coast Salish peoples and their lands on which she was born and primarily develops her practices.
•••
Click here to read more about the Kris Anderson Connexions Mentorship Program