Visiting Filmmakers at DOXA
Image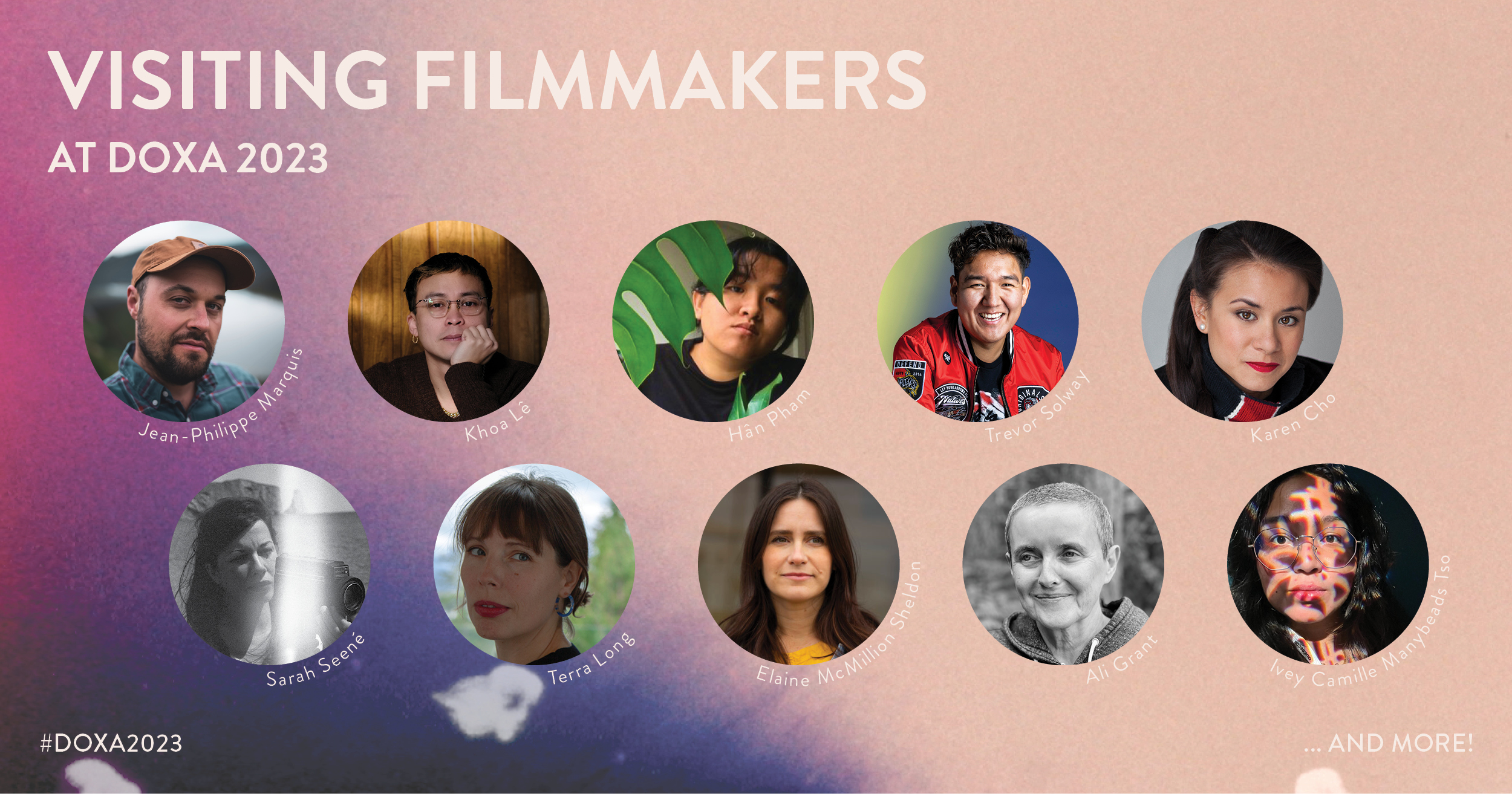 DOXA is proud to welcome filmmakers from Canada and beyond to this year's festival; audiences and doc creators alike will have the chance to meet, chat with, and learn from each other throughout festival dates. Keep reading to learn more about the visiting filmmakers, including which screenings will have filmmaker Q&As!
•••
May 4 | Big Fight in Little Chinatown, 7:00 PM at SFU's David Mowafaghian Cinema
Karen Cho 曹嘉伦 is a Chinese-Canadian filmmaker known for her socio-political documentaries. Karen's films include In the Shadow of Gold Mountain a documentary about the Chinese Head Tax and Exclusion Act, Seeking Refuge, a film on refugees in Canada, and Status Quo? a documentary on the women's rights movement in Canada. In 2018 Karen was nominated for a Best Directing CSA for her work on CBC's Interrupt This Program.
May 5 | Manufacturing The Threat, 7:45 PM at VIFF Centre *WORLD PREMIERE*
Amy Miller is an award-winning director, producer and writer based in Montréal. Her feature films as director include Tomorrow's Power, No Land. No Food. No Life., The Carbon Rush and Myths For Profit. She produced the documentary Another Word for Learning. Her documentaries have been screened at festivals throughout the world, and have been broadcast in over two dozen countries and are included in the library catalogues of hundreds of universities and colleges worldwide. She remains dedicated to creating documentaries for transformative social change.
Amy Miller is also hosting a masterclass on May 6 for DOXA Industry, admission pay-what-you-can/sliding scale: Register HERE
May 3, 13 & 14 | Not Quite That *WORLD PREMIERE*
Ali Grant is a lesbian filmmaker, based in Vancouver, BC. At age 53 she went back to school to learn documentary filmmaking. She is passionate about telling stories of defiant women who strive to change themselves and the world around them.
May 6 | Days (Les jours), 2:30 PM at VIFF Centre
In 2014, Geneviève Dulude-De Celles' first short fiction film, The Cut, won Best International Short Film at the Sundance Film Festival in addition to a dozen other awards and selections in over 80 international festivals. The following year, she released Welcome to F.L., a feature documentary that premiered at TIFF and won the Best Documentary Hope Award at RIDM. Her first feature film, A Colony, was released in Quebec in the winter of 2019 and won several festival awards, including the Crystal Bear at the Berlinale and Best Film at the Canadian Screen Awards. Days is her second feature documentary.
May 6 | Má Sài Gòn (Mother Saigon), 5:15 PM at The Cinematheque
Khoa Lê is a Quebecois (ou French Canadian) multidisciplinary artist and filmmaker born in Vietnam. His works explore plural identities, intimacy, and the human experience in all its diversity. His first feature-length documentary, Bà Nôi (2013), premiered at Visions du réel and won the Pluralism Award from the Inspirit Foundation at Hot Docs festival in 2013, as well as the Best Quebec/Canada Newcomer Award at the Montreal International Documentary Festival that same year.
May 6 | Tiny, 2:45 PM at The Cinematheque, MEMORY WITH(OUT) HOME Shorts Program
Ritchie Hemphill grew up on Tsulquate reserve and was raised by his community, the Gwa'sala-'Nakwaxda'xw people. Ritchie is both a filmmaker and a recording musician, working to create art that is healing for himself and for his people. Ritchie co-founded the award winning stop motion animation film studio Bronfree Films with his film partner Ryan Haché in 2015, and created a number of short films that include Indigenous legends, language revitalization and Elder storytelling. Ritchie has an integral role in producing, directing, designing, composing for and marketing films with Bronfree Films.
Ryan Haché is a self-taught stop motion animator and short film director working in claymation and 2D animation. His works range from realism to abstract absurdity and macabre humour. Ryan is driven to create alluring oddity in his work hoping to charm people with the innate strangeness of claymation. In 2015 he co-founded the creative studio Bronfree Films and has since produced dozens of independent short animations in collaboration with indie artists and musicians. Ryan and his studio have successfully won numerous arts grants including funding from Telus Storyhive (2018), Canada Council for the Arts (2019), and First Peoples Cultural Council (2020). He continues to seek creative collaboration with diverse artists to facilitate and actualize human expression and beauty.
Ritchie Hemphill and Ryan Haché will also be presenting a case study of their film on May 8, as part of DOXA's Industry program. To view event details, Click HERE
May 6 & 9 | Chinatown 2050, SPACE AS PLACE/PLACE AS SPACE Shorts Program
Linda Zhang is an artist, architect, drone pilot, and educator. Her work explores the future of community memory and cultural heritage through emergent technologies like virtual reality and 3D scanning alongside material processes like slipcasting. She is the recipient of the 2022 Artist-in-Residence at the EKWC, the 2019 Multicultural Fellowship at NCECA, and the 2017 Fellowship at the Berlin Center for Art and Urbanistics. She grew up travelling several hours just to get groceries from Toronto's Chinatown West.
May 6 & 9 | Cubicle Island, SPACE AS PLACE/PLACE AS SPACE Shorts Program
Damien Ferland is a filmmaker who likes to examine absurd and awkward situations that are initially approached with the best of intentions. He is always on his own case to write and direct a feature film.
May 6 & 9 | Hell and Highwater, SPACE AS PLACE/PLACE AS SPACE Shorts Program
Jeremy Williams has been producing independent documentary films for 23 years. His work mainly focuses on community empowerment. He works extensively with Indigenous nations and communities across Canada to help amplify their voices and vision for social justice and environmental conservation and restoration. You'll find his work online under the banner of River Voices Productions.
May 6 & 9 | Kaatohkitopii: The Horse He Never Rode for RATED Y FOR YOUTH
Trevor Solway, Sinakson, is a Blackfoot filmmaker from Siksika Nation. He attended the Independent Indigenous Digital Filmmaking program at Capilano University in 2012. He then graduated from Mount Royal University with his Bachelor's of Communications in 2017. His breakthrough film Indian Giver screened internationally and can now be found on Amazon Prime Video. Notably his film Broken Record screened at LA Skins in Hollywood, CA and American Indian Film Festival in San Francisco. Trevor's broadcast debut came in the form of his documentary Intertribal on CBC Television and CBC GEM. In 2022 he directed an episode of the docs-series Stuff The British Stole for CBC/ABC and an episode Amplify for APTN. Both episodes will air in 2023. He is the writer/director/showrunner of Tales From The Rez, a horror comedy anthology series that will be available to stream on APTN Lumi in 2023. He is currently in production for his most recent feature documentary Siksikakowan: The Blackfoot Man, which is produced by The National Film Board of Canada. In 2020 Trevor was the recipient of MRU Horizon Award for early career success and in 2021 he was named Avenue Magazine's Top 40 Under 40. He is the founder and leader of The Napi Collective, a grassroots filmmaking society based out of Siksika Nation.
May 6 & 11 | Chasing Light, MEMORY WITH(OUT) HOME Shorts Program
Hân Phạm is an emerging artist and experimental filmmaker from Saigon, Vietnam. Experimenting with video and film, photography, and soundscape compositions, Hân's works think through the ephemerality of memory, language, and history in relation to the constantly changing and dislocated landscapes, rooted in the in-betweenness of distance as space for reflection. Their works have been included in DOXA Documentary Film Festival, Vancouver International Film Festival Milwaukee Underground Film Festival, Vines Arts Festival, Vancouver QueerFilm Festival, Mount Pleasant Community Art Screen, Media Arts Committee, and Massy Arts Society.
Dave Rodden-Shortt has over 15 years of experience as a Creative Director. Dave holds a BA in Communications and Film Studies from Queen's University and is the founder of fix8 Media (2002) and Shortt and Epic Productions (2011). Dave's work and creativity has won him many awards, including the Gerry Brunet Award for Best BC Short Film, Under The Rainbow. His latest film, Happytime Social Club, commissioned by B.C.'s Knowledge Network premiered at VIFF in 2019. He is the director, co-writer, co-Producer, cinematographer of The Empress of Vancouver, his first feature documentary film, funded by Telus Originals with support from the Vancouver Foundation and Creative BC.
May 6 & 11 | Madeleine, MEMORY WITH(OUT) HOME Shorts Program
Raquel Sancinetti is an animator/video editor originally from Brazil. She studied International Relations before start working in the film industry. In 2013 she graduated in Film Animation at Mel Hoppenheim School of Cinema. Currently lives in Montreal, Canada.
May 6 & 11 | Troika, MEMORY WITH(OUT) HOME Shorts Program
Robert Mentov is an independent film director based in Toronto, Canada. He was born in Eastern Europe and immigrated to the West as a young child during the fall of the Soviet Union, leaving behind most of his family in the process. During 2019, he attended a 35mm lab in Catalina with a focus on analog film mediums. In 2022 he was accepted to PlayLabs Films experimental workshop led by Apichatpong Weerasethakul that took place in the Peruvian jungle. His sensibilities as a creative revolve around existential questions of home, identity and universal themes of what humans need to feel a sense of belonging. Constantly seeking ways to challenge the process through varied perspectives, collaboration and execution, he has found his life's work in filmmaking.
Karl Kai is a Hong-Kong born Canadian film director, screenwriter, editor and producer. He has written and directed short films, music videos and documentaries. His work has been awarded in international film festivals and distributed through online content channels such as Nowness, Director's Notes, and Vice. He is a co-owner of Nocte, an independent film studio based in Toronto, Canada.
Sean Horlor and Steve J. Adams are the directors and EPs of Satan Wants You. They make films about pop culture and queer culture. Their last feature Someone Like Me won acclaim at international festivals, including the Audience Award at Hot Docs 2021. Their next feature doc is about a notorious political family that broke the internet in the 2010s.
May 7 | 2012/Through The Heart (2012/Dans le coeur), 12:45 PM at The Cinematheque
Arnaud Valade finished his studies at the École des métiers du cinéma et de la vidéo in Rivière-du-Loup, Quebec in 2019 and then released a first short film, Tout est numéro 1 dans l'est, in 2021. He edited and co-directed the feature film 2012/Dans le coeur in 2022 and is currently editing a feature documentary to be released in 2023. Otherwise, he spends most of his time listening to and watching birds.
May 7 | Silvicola, 8:00 PM at VIFF Centre
Jean-Philippe Marquis is a documentary filmmaker and director of photography based in Bella Coola, British Columbia. He has ten years of cinematography experience on documentaries and television series. His documentary work as a director is often non-linear, contemplative and explores themes of contested geographies and resource extraction. He has made short films in Palestine, Congo-Kinshasa, Cameroon and filmed intensively across Yukon and Western Canada. Jean-Philippe recently produced and directed Silvicola (Hot Docs, DOXA 2023), a feature documentary reflecting on industrial forestry and reforestation, which received support from the Canada Council for the Arts, the BC Arts Council and the NFB. He received a Leo Award for best cinematography on a documentary series (2018), is a recipient of the Hot Docs Accelerator program (2018) and received an IDRC Award for International Development Journalism (2012). He holds degrees in journalism from Concordia University and anthropology from Université de Montréal.
May 7 | You Were My First Boyfriend, 2:15 PM at VIFF Centre
Sarah Enid Hagey is a filmmaker, artist, performer, comedy sketch writer, sound designer and cat person. She's edited for over 20 years. Her work has screened at the Yerba Buena Center for the Arts and MoMA. She has received a Cinema Award from the National Board of Review, a James Beard Award for Visual and Technical Excellence and an Emmy.
May 7 & 13 | Feet in Water, Head on Fire
Terra Long is a filmmaker whose work circles cultural, personal, and natural histories embedded within landscape. Her practice is collaborative, with a commitment to deep listening and material explorations of celluloid. Feet in Water, Head on Fire is her first feature length film. Her works have screened at venues around the world, including the Toronto International Film Festival, CPH: DOX, Ann Arbor Film Festival, International Film Festival Rotterdam, and Media City Film Festival among others. She is a member of the Independent Imaging Retreat Collective (The Film Farm) and Film for Artists Collective. She frequently collaborates with other filmmakers, most recently as lead editor on Going to Mars: The Nikki Giovanni Project (Sundance Grand Jury Prize 2023). She lives and works on the traditional territory of the Sḵwx̱wú7mesh Úxwumixw in the Canadian province of British Columbia.
Terra Long will be presenting a masterclass on May 8, as part of DOXA's Industry program. Admission pay-what-you-can/sliding scale: Register HERE
May 8 | Powerlands, 5:30 PM at VIFF Centre
Ivey Camille Manybeads Tso is an award-winning queer Navajo filmmaker. She was a fellow with the Firelight Media Documentary Filmmaker Lab, and the 4th World Indigenous Media Lab. She started making films at the age of 9, through the Native youth media project Outta Your Backpack Media. At the age of 13 she made the award-winning fiction film In the Footsteps of Yellow Woman, based in the true story of her great-great-great grandmother Yellow Woman, who lived through the Navajo Long Walk of 1864-1868. The film screened in over 90 film festivals internationally and won 11 awards. Ivey Camille continued to refine her filmmaking craft with a full scholarship to Idyllwild Arts Academy in California. She later returned home to work on films in her community of Navajo Nation. At the age of 19, Ivey Camille began work on Powerlands, her first feature. Powerlands has screened internationally and won several festival awards including the The 2022 Rigoberta Menchú Grand Prize.
May 9 | Coming Around, 12:15 PM at SFU Cinema
Sandra Itäinen is a Finnish film director, producer, and editor based in New York City. Documentary editing credits include Tomboy (SXSW, 2020) and award-winning Kelet (DocPoint, 2020). Sandra's directorial feature debut Coming Around premiered at Thessaloniki 2023 in the Newcomers Competition, and is currently in the festival circuit. In 2021, she directed the short documentary series Noitapiirit (eng. Covens) to critical acclaim for Finnish YLE. Sandra's first documentary short The Weaveologist (2016) screened at multiple film festivals, among others DOC NYC. She is the associate producer of Dark Money (dir. Kimberly Reed) which premiered at Sundance 2018, nominated for Best Documentary Feature. Before moving into film, Sandra worked as a journalist for Finnish YLE. She works to amplify women's voices through filmmaking and focuses mainly on themes revolving around identity, family and mental health, through a millennial lens. She holds an MFA in Documentary Film from the School of Visual Arts and an MSS from the University of Helsinki.
May 10 | Cheenee, 8:15 PM at The Cinematheque *WORLD PREMIERE*
Andreas Antonopoulos has worked across fiction, documentary, experimental, and animation films. He has produced film work in Greece, the UK, and Trinidad and Tobago. Andreas is a film lecturer who taught film at Napier Edinburgh University in the UK, Leeds Beckett University in the UK, and the University of West Indies in Trinidad and Tobago.
May 10 & 11 | King Coal for RATED Y FOR YOUTH
Elaine McMillion Sheldon is an Academy Award-nominated and Emmy and Peabody-winning filmmaker. Sheldon is the director of two Netflix Original Documentaries—Heroin(e) and Recovery Boys—that explore America's opioid crisis. She has been named a Creative Capital Awardee, Guggenheim Fellow, a USA Fellow by United States Artists, and one of the "25 New Faces of Independent Film" by Filmmaker Magazine.
May 11 | Veranada, 6:15 PM at The Cinematheque
Dominique Chaumont is a Canadian, Argentinian and French director and producer involved in the Toronto film industry. Veranada is Dominique's first featured documentary, in which she explores a community of herders in the Argentinian Andes Mountains through the eyes of Don Arturo, a gaucho, who travels on his horse in search of greener grasslands amidst a severe drought.
May 12 | Le spectre visible (The Visible Spectrum), 6:15 PM at The Cinematheque, NOTES ON THE BODY Shorts Program
Sarah Seené is a photographer and filmmaker based in Montréal (Quebec, Canada) who works with 35mm film, Super 8 and Polaroid. Over a number of years, she has developed an aesthetic rooted in the portrait and documentary genre and characterized by a unique sensibility and poetry that addresses intimacy and what it is to be human. Her photography has been exhibited and projected in several solo and group exhibitions internationally, such as at the Voix-off festival (France), Revela-T (Spain), Présences Photographies (France), Biennale de photographie en Condroz (Belgium), and Atoll artist-run centre (Canada). Her short films have been screened at many international festivals, including the Ann Arbor Film Festival (United States), the Festival du Nouveau Cinéma - FNC (Canada), the Engauge Experimental Film Festival (United States), Videoex (Switzerland), Ultracinema (Mexico), and Analogica (Italy). Her film LUMEN received seven prizes including Best Experimental Short Film Award at the Festival on the Bayou (United States) and Second Prize at the International Rare Disease Film Festival (Germany).
May 12 | My Body Is A Poem/The World Makes With Me, 6:15 PM at The Cinematheque, NOTES ON THE BODY Shorts Program
Brandon Wint is an Ontario-born poet, spoken word artist, and multi-disciplinary collaborator who uses poetry to attend to the joys, challenges and miracles of being alive. For Brandon, the written and spoken word is a tool for examining and enacting his sense of justice, and imagining less violent futures for himself and the world he has inherited. For more than a decade, Brandon has been a sought-after, touring performer and has presented his work in the United States, Australia, Lithuania, Latvia, and Jamaica. His poems and essays have been published in national anthologies, including The Great Black North: Contemporary African-Canadian Poetry (Frontenac House, 2013) and Black Writers Matter (University of Regina Press, 2019). Divine Animal is his debut book of poetry, while My Body Is A Poem/The World Makes With Me is his debut short documentary.
•••