Image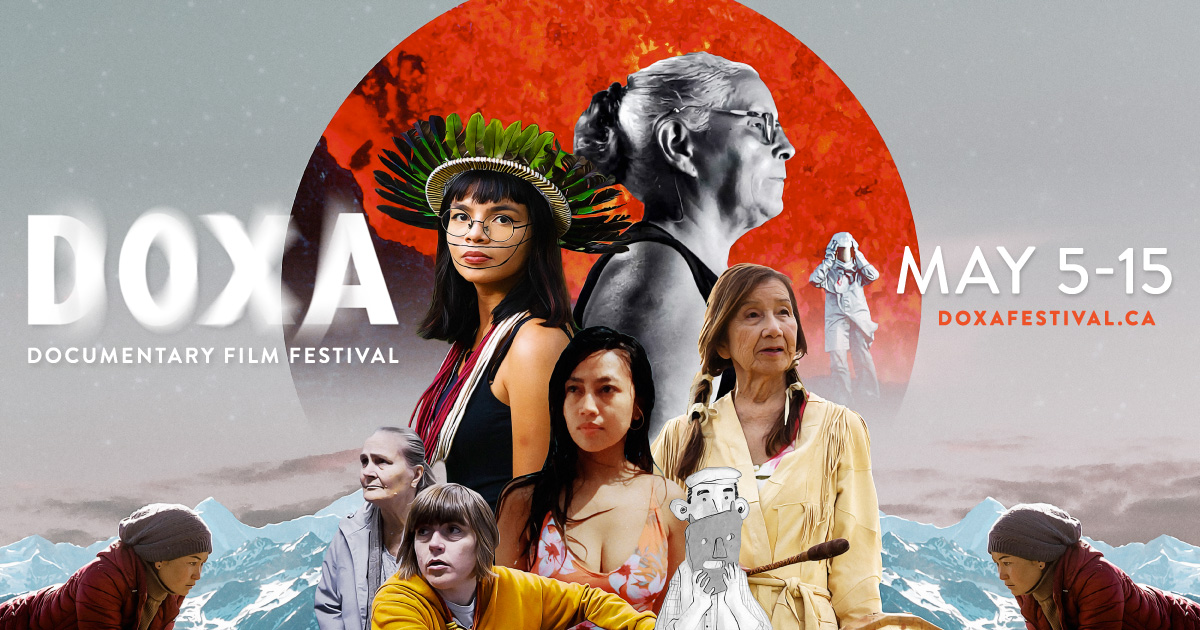 After two years of online presentation, DOXA Documentary Film Festival, Western Canada's largest documentary film festival, returns to present a hybrid 21st edition, screening in theatres and streaming online May 5 through May 15, 2022. In a return to form, DOXA will screen its roster of crucial and thought-provoking documentaries in theatrical venues across the city, bringing filmmakers and audiences together for a long-awaited communal cinema experience. And for folks who prefer to view from the comfort of their own homes, most festival films will be available to stream online for select durations between festival dates.
The 21st annual DOXA Documentary Film Festival will showcase a total of 55 features and mid-lengths, 24 short films, both pre-recorded and live Q+As, as well as Industry events and multiple opportunities for filmmakers, audiences and industry professionals to connect, both virtually and in person. Films will be available to stream Canada-wide, through DOXA's Eventive online platform. In-person screenings will take place at The Vancouver Playhouse (Opening film), The Cinematheque, VIFF Centre and SFU Goldcorp Centre for the Arts. In-person Industry events will be held at SFU's World Arts Centre.
•••
For this hybrid festival, DOXA will feature two guest-curated programs. Our returning FRENCH FRENCH, curated by Thierry Garrel, spotlights the work of two acclaimed French directors (Mariana Otero and François Caillat) in a double retrospective, alongside bold new voices in French-language cinema. A selection of films under the umbrella of GRAND-MÈRE. GRANDMOTHER. BABUSHKA., chosen by guest curator Laurence Reymond, takes the universality of the Grandmother Figure and examines her many cinematic representations. "Older women have it all: a wealth of experiences, and the power to bring those experiences to life now. Their stories, memories, histories and fantasies connect past and present."
Beyond the festival's cornerstone Justice Forum and Rated Y for Youth programs, DOXA 2022 will include two Spotlight programming streams: MEMORY AND ARCHIVES and LANDSCAPES OF RESISTANCE. The affective and political potential of archival material is the focal point of the Memory and Archives Spotlight program. If our memories are unreliable and the archive can be questioned, where does that leave us? The films in this program contend with personal, historical and mythic memory in order to reach deeper understanding. Tomasz Wolski's historical thriller-esque 1970 chronicles the Polish government's violent response to public upset using era-specific marionettes, stop motion animation and archival audio to distinct effect. Vancouver-based Sara Wylie's latest work, A More Radiant Sphere, revives the life and writings of Canadian poet Joe Wallace—radical believer in socialist ideals, writer of anti-capitalist verses, and survivor of detainment by the Canadian state. Rewind & Play, directed by Alain Gomis, subtly deconstructs the systemic racism and legacy of colonialism at play when jazz icon Thelonious Monk makes a visit to a Parisian television studio in 1968. Courtney Stephens's insightful essay film Terra Femme (scored by former Vancouver-based musician Sarah Davachi) is a tapestry of amateur travel footage shot by women from mostly the 1920s to 1940s. These films and more—Karim Aïnouz's Mariner of the Mountains, Robin Hunzinger's Ultraviolette and the Blood-Spitters Gang, Trinh T. Minh-ha's What About China?—make up DOXA 2022's Memory and Archives Spotlight program.
Landscapes of Resistance presents a collection of films rooted in stewardship and grounded in political freedom. The films in this Spotlight are searing reminders of the ongoing effects of colonialism, systemic oppression and environmental destruction in BC, across Turtle Island and around the world. Beyond Extinction: Sinixt Resurgence, directed by Ali Kazimi, is a longform first-hand account of the Sinixt Nation's battle for recognition, a people previously declared extinct by the Canadian government. Luke Gleeson's DƏNE YI'INJETL - The Scattering of Man tells the story of how his people's lands were transformed, after the flooding of BC Hydro's W.A.C. Bennett Dam in 1968. Director Alex Pritz follows the Uru-Eu-Eau-Wau Indigenous Surveillance Team in Brazil as they seek to defend their land against colonial deforestation, in The Territory. The titular Landscapes of Resistance, by Marta Popivoda, is an intimate portrait of 97-year-old Sonja who fought against Nazism in the 1940s. As well, we're proud to include two shorts by the legendary Alanis Obomsawin—Bill Reid Remembers and Honour to Senator Murray Sinclair—in this Spotlight program.
Several Canadian filmmakers launch their world premiere at DOXA 2022. In addition to Sara Wylie's A More Radiant Sphere and Ali Kazimi's Beyond Extinction, Canadian films premiering for the very first time at DOXA include Teresa Alfeld's Doug and the Slugs and Me, DOXA's Closing film; Colin Askey's Love in the Time of Fentanyl (Justice Forum Special Presentation); Simon Plouffe's immersive short about a flooded forest on unceded Innu territory, titled Forests; My Friend Jim, Aaron Zeghers's short about his friend's kinship with pop star Britney Spears; And Ingrid by Hannah Dubois, a short profile of the conceptual artist Ingrid Baxter; Alixandra Buck's Beckwoman's Hippie Emporium, about the legendary Commercial Drive shop owner; and Cypher, directed by Mariam Ingrid Barry and Eva Anandi Brownstein, which follows three Black artists creating safe spaces for youth of African descent in Vancouver.
Announced last week, DOXA's Special Presentations include Sara Dosa's Fire of Love (which also finds a place in our Memory and Archives Spotlight), telling the awe-inspiring story of two volcanologists in love; Love in the Time of Fentanyl by Colin Askey, an intimate portrait of a community fighting to save lives through harm reduction; Dear Jackie directed by Henri Pardo, an endearing portrait of Black life in Montreal and a testament to the history and legacy of community-building in the face of segregation and racist urban renewal policies; and Doug and the Slugs and Me by local DOXA alum Teresa Alfeld, which utilizes candid testimonies of the Slugs themselves to temper nostalgia for the band's glory days with a nuanced look at the complexities of the legendary Doug's life—from his formative early years to the bittersweet end.
•••
To note: There has been a COVID exposure at The Post at 750, and out of an abundance of caution we have decided to cancel our Media Launch today, Wednesday, April 13th. We want to prioritize the health and safety of our staff and audience, and therefore have decided to take this precaution.
Committed to cultivating curiosity and critical thought, DOXA 2022 delivers some of the very best in contemporary documentary cinema over 11 days. DOXA Documentary Film Festival runs May 5-15, 2022, offering an exceptional selection of films (screening both in-person and streaming online), filmmaker Q+A's and Industry events. Films will be available to stream for the duration of the above festival dates, unless otherwise specified. Films are geo-blocked to Canada and virtual tickets will be limited. Select screenings will include live and pre-recorded filmmaker Q+As and extended discussions. Festival tickets and passes will be available starting Wednesday, April 13th; for details, check www.doxafestival.ca. For further information, call the DOXA office at 604.646.3200.
Please be aware that DOXA requires all attendees to wear a mask at all times during in-theatre screenings and Industry events, unless actively eating or drinking in your seats. This is part of our commitment to keeping DOXA staff, volunteers, and all members of our community safe and healthy.
DOXA is presented by The Documentary Media society, a Vancouver-based non-profit, charitable society. DOXA is presented on unceded xʷməθkʷəy̓əm (Musqueam), Skwxwú7mesh (Squamish) and Tsleil-Waututh territory.
•••
Hop on over to our festival Welcome page, and learn a bit more about this year's hybrid format.