Some important news from the DOXA team...
Image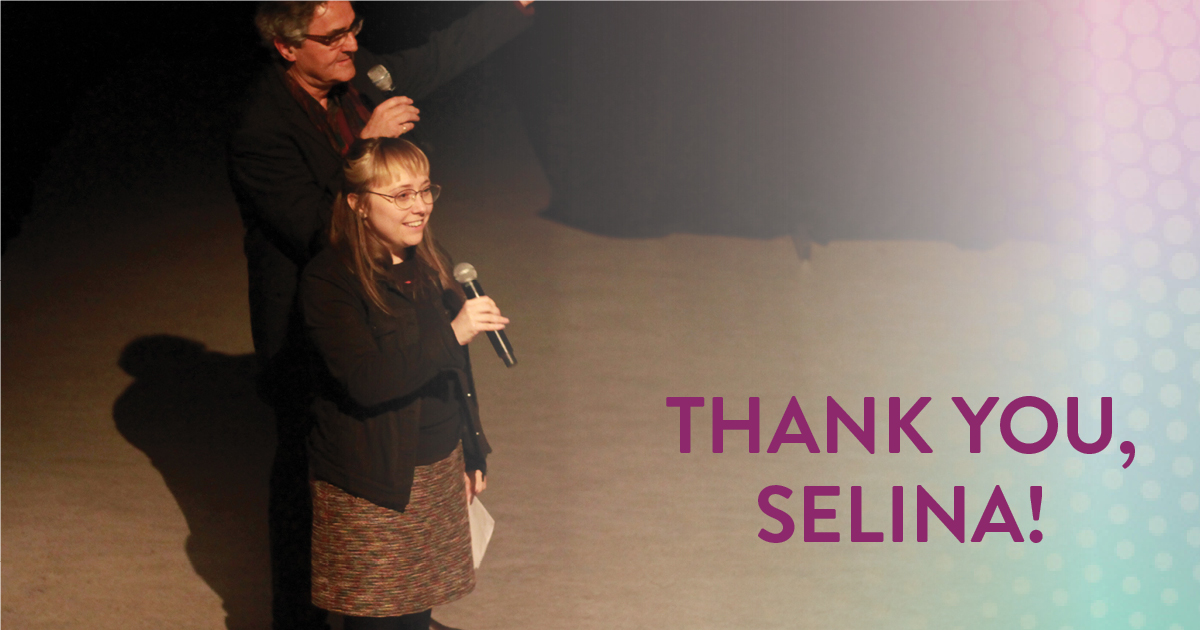 Dear DOXA community,
If the last little while has taught us anything, it is that change is inevitable and it's best to meet it head on. As it turns out, significant changes are on the horizon...
Our beloved Director of Programming, Selina Crammond, is leaving DOXA to focus on her graduate studies and to pursue new opportunities in the arts and culture sphere!
Selina first came to DOXA as a participant in the 2011 Connexions program. From there, she joined the team as Development Officer and cut her teeth selling ads for the program book. Next, she stepped into the role of Programming Assistant and Coordinator, providing support to then Director of Programming Dorothy Woodend from 2013 to 2017. When Dorothy left her post, Selina took the lead and became DOXA's Director of Programming from 2017 onwards, until today.
DOXA as we know it has been shaped by her wisdom and initiative as a programmer. Her integrity and thoughtfulness has helped steer DOXA through challenge after challenge—organizational restructuring, the inception of an entirely new festival (VanPodFest), a global pandemic... you name it. She is a force and we are proud to have worked alongside her.
•••
A few words from our board members:
"Over the past decade Selina has gone from being mentored by Dorothy Woodend to creating an indelible mark of her own on the DOXA Festival. Through courageous, intelligent programming, she has helped to shape the values of DOXA and make it a diverse showcase for local and international filmmakers. We will miss you, Selina, but we will try to maintain the high standards you have set."
- Roger Holdstock (board chair)
"It has been a privilege to know and work with Selina over these past ten years. I will miss Selina's care and dedication, including her unwavering commitment to a moral compass where issues of justice and equity, in their myriad of forms, inform all that she does."
- Debra Pentecost (secretary)
"Selina Crammond's classroom presentations at Capilano University inspired our students to push the limits of the form and human possibility to create a better world."
- Michelle Mason
"Selina as not only the DOXA Director of Programming, but also a practicing artist and intellectual, brought a unique visionary and creative sensibility to the selection and curation of films for the festival. We will miss her keen eye and her bold vision greatly."
- Jill Anholt
•••
This will be a new era for DOXA, and we're thankful for your continuing support as we navigate the ups and downs. Though it feels like a heavy goodbye, we know that Selina will be only a short distance away (the arts community is small!), and that whoever steps up to fill her (very large) shoes will be an amazing asset to the team.
A few words from Selina herself:
"From issue-driven exposés to auteurs that expand the definition of cinema itself, I've been profoundly impacted by the rich array of films we've screened over the years. But what I cherish even more are the deep and meaningful friendships I've made along the way. DOXA is an organization that continues to attract a brilliant community of people who believe in the principles of artistic expression, integrity and equity—values that oftentimes are at odds with the narrow parameters of the neoliberal economic framework we find ourselves operating within. I feel truly inspired, and eternally grateful to have spent several years growing into my role as Director of Programming alongside a supportive and generous team of co-workers, board members, filmmakers and other co-conspirators. I'm excited for the future of the organization and look forward to staying involved as a programming advisor and, most importantly, a lifelong audience member!"
•••
Thank you Selina, for your dedication to DOXA and your friendship. We can't wait to see what you do next!
Love,
The DOXA team