2021 Outdoor Summer Screenings
Image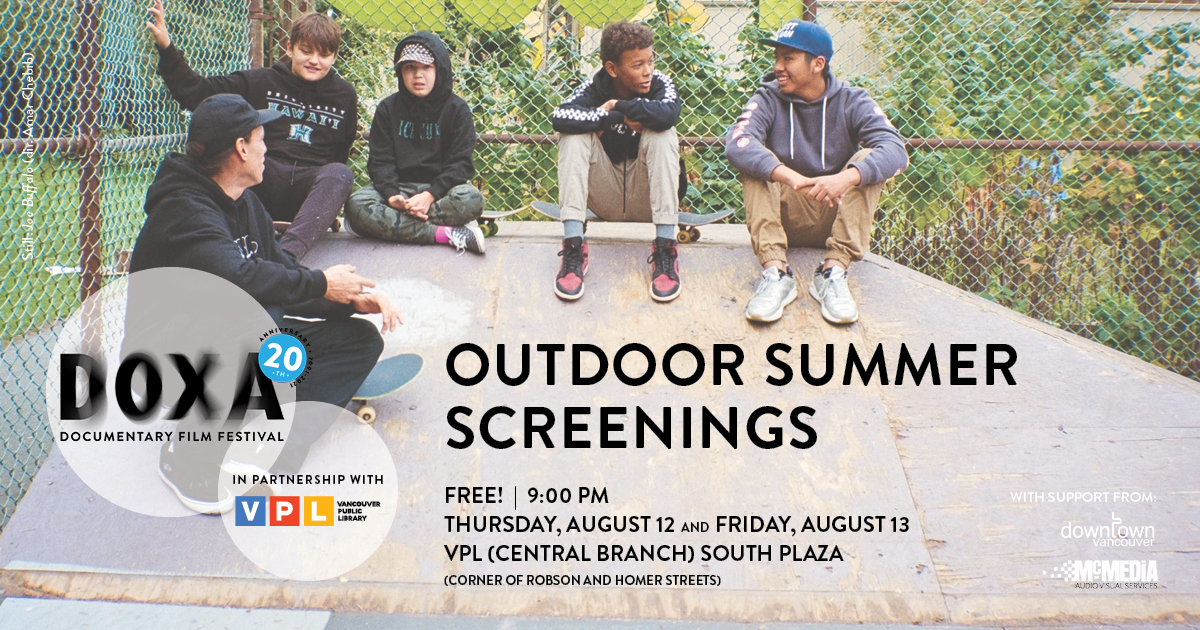 DOXA's Outdoor Summer Screenings are back!
FREE to attend | When: Aug. 12 and 13 @ 9PM | Where: VPL (Central Branch) South Plaza
Join us in celebrating local documentary talent! We're proud to present a selection of short films from both our 2020 and 2021 festival programs, for audiences to enjoy en plein air.
On Thursday, August 12 and Friday, August 13 at the VPL South Plaza (corner of Robson and Homer) you'll get to watch some of DOXA's best shorts by local filmmakers, for FREE! Quite possibly the perfect evening for any doc lover. Both screenings will start at 9:00 PM, and seating is limited to the Plaza steps. We recommend bringing a blanket or a cushion to sit on!
• • •
Program 1: Earthly Matters | Thursday, August 12
Menaptwi (Smoked)
Natasha Naveau, 5 mins
An Indigenous Knowledge Keeper shares the process of smoking fish.
The Return
Marina Dodis, 20 mins
Stunning cinematography and thoughtful interviews paint a realistic yet hopeful portrait of the Lower Mainland's creeks, which salmon depend on to spawn and thrive.
A Four Pointed Star
Sophia Biedka, 8 mins
Through a rich soundscape and underwater cinematography, this short film explores the disease causing mass mortality in sea star populations on the coast of Vancouver Island.
Lichen
Lisa Jackson, 12 mins
A scientific and poetic deep dive into the remarkable life of lichen.
What About Our Future?
Jaime Leigh Gianopoulos and Cláudio Cruz, 24 mins
"We are unstoppable, another world is possible!" chant the sustainabiliteens, a group of young environmental activists who, in 2019, organized the largest climate strike in Vancouver's history.
Program 2: Feeling at Home | Friday, August 13
Nuxalk Radio
Banchi Hanuse, 3 mins
Saving your language can be a lot of fun, and the folks at Nuxalk Radio offer a glimpse of just how much, in this charming tale of language preservation.
Koto: The Last Service
Joella Cabalu, 15 mins
After nearly 40 years, the family-run Koto Japanese Restaurant in Campbell River, BC is closing down. Run by the Maeda family, the Koto is known for being one of the first authentic Japanese restaurants in the "Salmon Capital of the World."
Joe Buffalo
Amar Chebib, 16 mins
Joe Buffalo is an Indigenous skateboard legend. He's also a residential school survivor. As he emerges from a traumatic childhood and decades of addiction, local director Amar Chebib presents an intimate portrait of Joe's journey to fulfill his lifelong dream of turning pro.
Into Light
Sheona McDonald, 19 mins
A mother and child in Yellowknife navigate the complexities of gender identity, ultimately asking: "When a child reveals who they truly are on the inside, how does a parent set aside their own expectations to help them become their most authentic self?"
To: You, To Night
Hân Phạm, 9 mins
A late night walk through Vancouver streets, personal correspondence, and a tragic event are woven together in this experimental reflection on dislocation, immigration and language.
Still Processing
Sophy Romvari, 16 mins
At the centre of Sophy Romvari's film is a box of family photos, stowed away and unseen for decades. "I'm not sure if it's finished," Sophy silently narrates, indicating that when it comes to matters of loss and grief, no one ever truly stops processing.
• • •
We're so excited to once again gather in person with the DOXA community! And of course, COVID-19 safety protocols will be in place (masks are recommended, hand sanitizer and masks will be available as needed, and we ask that folks keep a respectful distance from fellow audience members).
Register for both evenings HERE. Registration is not required to attend, but it helps us anticipate attendance and send a reminder the day before the event, or any updates about this program. See you soon!
Tell us what you thought! If you have any feedback about your experience at DOXA's Outdoor Summer Screenings, please fill out this survey. Many thanks, in advance.
Presented in partnership with the Vancouver Public Library, with support from the DVBIA and McMedia AV. These screenings are hosted on the unceded (stolen) territories of the xʷməθkʷəy̓əm (Musqueam), Skwxwú7mesh (Squamish) and Sel̓íl̓witulh (Tsleil-Waututh) peoples.