DOXA 2021 Award Winners' Acceptance Speeches
Image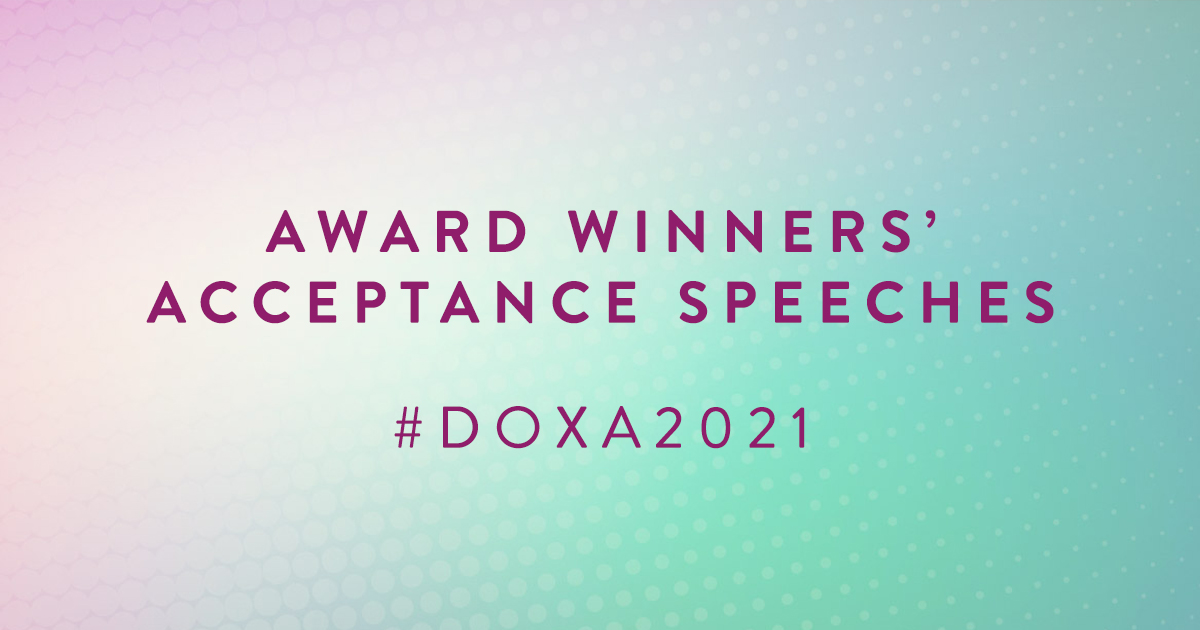 WATCH THE ACCEPTANCE SPEECHES HERE.
Congratulations to all winning films this year at DOXA Festival!
Jaime Leigh Gianopoulos and Cláudio Cruz's What About Our Future? is this year's winner of the Nigel Moore Award for Youth Programming, becoming the first short film to win this award. Jurors Maya Biderman, Teagan Dobson, Steven Hawkins, Anna Hetherington and Jacob Saltzberg noted the film "makes a poignant statement that highlights what amazing work can be achieved by a dedicated group of young minds, simultaneously solidifying the importance of preserving our natural world for generations to come. This film shows us that the power of youth organizing, and of young people as the catalysts for social change is fundamentally undeniable."
An honourable mention has also been awarded to Yael Bridge's The Big Scary "S" Word for its "refreshing perspective on socialism in America. The film navigates the climate and socio-political context of American socialism and does so with grace and focus. The spirit of the film evoked that of Nigel Moore, in whose memory this award was created."
This year's Short Documentary Award has been presented to Sarra El Abed's Ain't No Time For Women, which "documents women in a candid yet immersive style as they voice their political opinions in the confines of a salon." Jurors Teresa Alfeld, Priyanka Desai and Alejandro Yoshizawa noted that "by framing the salon actions and conversations in a war photography style, the film reflects on the irony of women's representation in the political system and the behind the scenes work women do to ensure that democracy is alive and healthy."
Presented by the Director's Guild of Canada, and including a $5000 cash award, the recipient of the Colin Low Award for Best Canadian Director is Elle-Máijá Tailfeathers' Kímmapiiyipitssini: The Meaning of Empathy, a "deeply personal and humanizing look at the causes and impacts of the opioid crisis in the filmmaker's community in the Kainai First Nation, in the Blackfoot Reserve in southern Alberta." Jurors Julia Aoki, Selwyn Jacob and Kim Hsu Guise describe the film: "Tailfeathers draws on personally held relations, community connections, and carefully compiled social histories to render the complexities of colonialism, substance use, and the politics of health through intimate portraits of the people most affected. The stories of healthcare workers and people who use substances are woven together with rigorous compassion, conveying the significant challenges posed by the opioid crisis and the healing that is made possible through community leadership and care." 
Finally, after making its North American premiere at DOXA, Father by director Deng Wei is the winner of this year's Feature Documentary Award. The film was "chosen for its textured and intelligent narrative construction," with jurors Brit Bachmann, Jorge Ignacio Castillo and David Geary describing it as "a beautifully nuanced, spacious, and darkly funny portrayal of a Chinese family that seamlessly interweaves fortune telling and real estate speculation with the art of the personal documentary."
All films in this year's program will remain available for streaming until midnight May 16, 2021, along with filmmaker Q&As and live streaming events. DOXA Drive-In screenings will take place May 14 and 15 at the PNE Amphitheatre, featuring some of 2021's standout documentaries.