DOXA 2021 Programmers' Picks
Image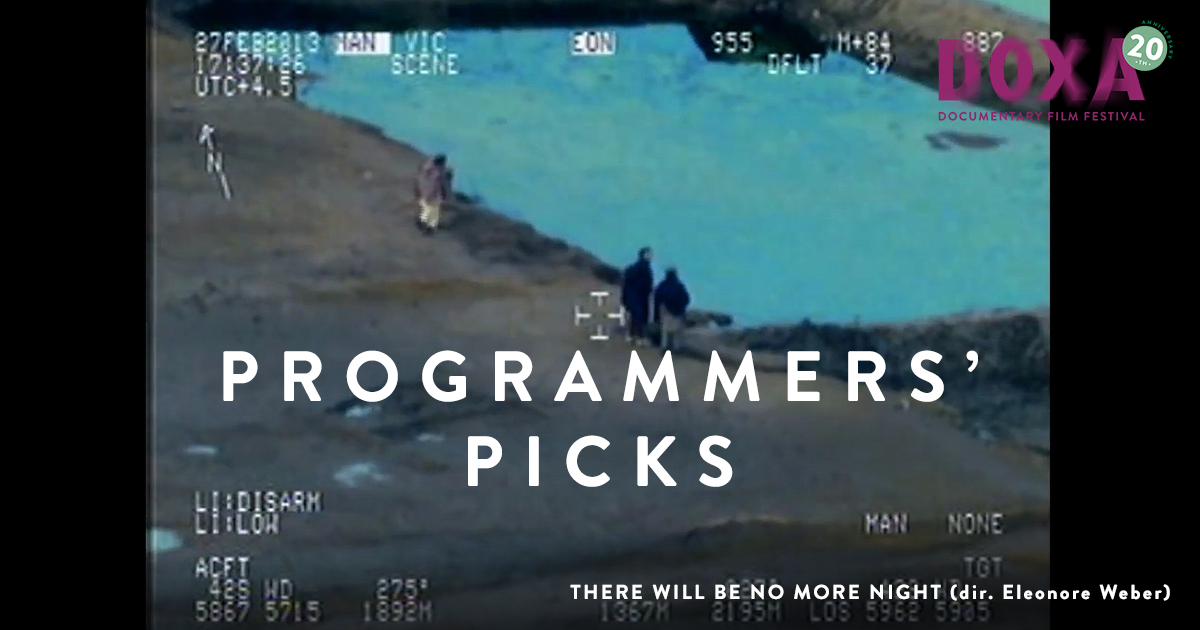 Joseph Clark - There Will Be No More Night (Éléonore Weber, France, 2020, 76 mins)
Told through the use of night-vision footage from the gun-mounted cameras that have become ubiquitous in modern warfare, THERE WILL BE NO MORE NIGHT is impossible to turn away from. Endless wars in Afghanistan and Iraq are creating huge archives of surveillance footage. Video that must be watched - first by soldiers and commanders inured to the grotesque callousness of war and now by us. This film is sickening and absolutely necessary. It is the grainy truth of our contemporary video-game culture laid bare. 
Carson Pfahl - Wuhan Wuhan (Yung Chang, US, 2021, 90 mins)
The past year has been particularly challenging for everyone. The collective feeling the pandemic has brought about is perfectly captured in WUHAN WUHAN, which follows ordinary people dealing with the beginning of the outbreak in the titular city. Although the circumstances may seem bleak, hope prevails in both the film and the wider world.
Kris Rothstein - Smelly Little Town (Zach Neumeyer, US, 2020, 26 mins) 
A story of industrial decline, celebrity, politics and holding a long grudge in small-town America. Bay City, Michigan actively distanced itself from Madonna, its most famous citizen, who once described the town as "smelly" in a TV interview. This slight has never been forgotten, although locals admit that the factories do smell. The narrative hook is how and why the local government positioned itself and the town in opposition to Madonna, but the film is a larger universal story about power, conformity and a controversy which has lasted for decades. So much humour and insight is packed into this excellent short film!
Kris Rothstein is a writer, editor and literary agent in Vancouver.
Anant Prabhakar - Silent Voice (Reka Valerik, France/Belgium, 2020, 51 mins)
Reka Valerik's film is an astute exploration of oppression, masculinity and identity. Through an astonishingly intimate lens, the documentary portrays every bit of hardship faced by Khavaj. After coming out, Khavaj faces banishment from his family and home state of Chechnya. Once an MMA fighter, he now leads a life of exile as he looks to rebuild and make something anew in Belgium. SILENT VOICE poignantly reflects on our senses of sorrow and hope, as well as testifying to the closeness between them.
Dharra Budicha - multiple films
I loved Sarra El Abed's politically whimsical take on Tunisian politics and women's rights in Ain't No Time For Women. Ben Donateo's cinematic ode to life as it once was in an Italian village in Burnt. Land of Fire is simply stunning. And Daniel Jeffery's Free Range is a solid work of quirk.
The art, passion and loss we witness in Wayne Blair and Nel Minchin's Firestarter - The Story of Bangarra is incredible and visceral; palpable through the very screen. The stories (and daycare) in Loira Limbal's intimate film Through The Night are so familiar to my family's stories (and daycare) in Seattle, it pangs. And in the film In The Rumbling Belly of Motherland, I find the presence of director Brishkay Ahmed and her camera just as crucial as the female journalists in Kabul that she profiles—without a bulletproof vest.
Gina Garenkooper - The Rumba Kings (Alan Brain, Peru, 2021, 94 mins)
The film beautifully reveals a generation of Congolese guitar royalty with rich archival footage to fill the gap of how the roots of rumba fought colonial oppression.
Selina Crammond - Delphine's Prayers (Rosine Mbakam, Belgium/Cameroon, 2021, 91 mins)
It's very simple in its construction but serves as an important lesson in deep listening and patience. We get to know Delphine through the empathetic and respectful camerawork, and I found the filmmaker's turn at the end particularly powerful.