Image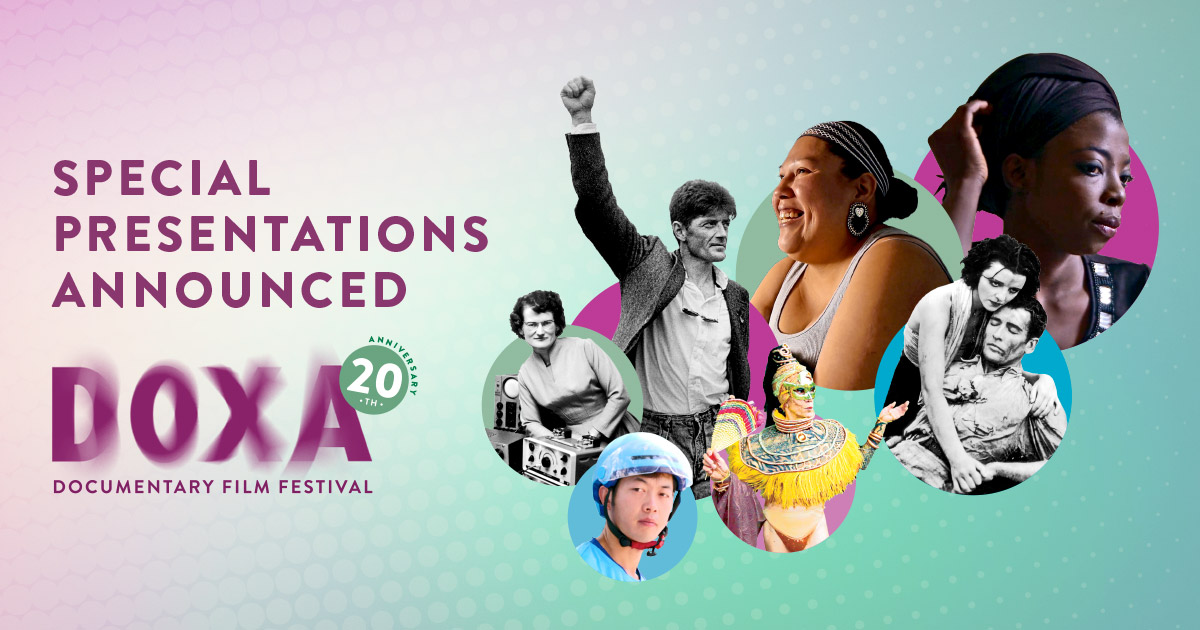 DOXA Documentary Film Festival, Western Canada's largest documentary film festival, returns to present a very special 20th Anniversary Festival, streaming online May 6 - 16, 2021!
We are announcing our line-up of Special Presentations, featuring both Canadian and international selections. Our full program has yet to be announced (details to come April 14, 2021—stay tuned!). Films will be available streaming online, for audiences across Canada to enjoy.
First on the list of Special Presentations is Shannon Walsh's The Gig is Up, which takes a close look at gig labour, a growing phenomenon and employment path that promises flexible hours, independence and open recruitment to workers around the world. From delivering food, to transporting passengers, to tagging images online, millions of people—including those who might otherwise be unable to find work in more conventional environments—are being drawn to gig employment, task by task, for the chance to do any job that pays. But despite its utopian potential, the reality of the gig economy is something far less auspicious. DOXA is proud to open our 20th annual festival with this courageous film that reveals how the magic of today's technology and its selling points might not be magical at all, and that asks us to consider the true cost of convenience.
After a brief hiatus in 2020, DOXA is excited to relaunch our cornerstone Justice Forum programming stream, now in its 11th year. Our Justice Forum Special Presentation Kímmapiiyipitssini: The Meaning of Empathy, directed by Elle-Máijá Tailfeathers (The Body Remembers When the World Broke Open), puts humanity and compassion first in its engagement with the substance-use crisis and drug-poisoning epidemic on the Kainai First Nation in southern Alberta. A must-see for all citizens (but policy makers and health professionals may want to take special note), Kímmapiiyipitssini charts a road map towards healing. Against the backdrop of the ongoing drug-poisoning epidemic happening in our own backyard, Tailfeathers compassionately crafts one of the most urgent and critical films of this year.
Directed by local filmmakers Sean Horlor and Steve J. Adams, Someone Like Me, follows a group of strangers from Vancouver's queer community who unite under the banner of Rainbow Refugee, a non-profit that connects LGBTQ+ asylum claimants with sponsors. This special presentation will mark the 12th edition of DOXA's Rated Y for Youth program.
Closing out the festival, Poly Styrene: I Am A Cliché chronicles the life and story of Poly Styrene, frontwoman of legendary 1970s British punk band X-Ray Spex. The Anglo-Somali musician was also a key inspiration for the riot grrrl and Afropunk movements, introducing the world to a new sound of rebellion.
All Special Presentation films will include a live streaming Q+A during our festival dates. Please keep an eye on our website for more details, soon to come!
To note! We're selling Early Bird passes! For a limited time only (from now until April 14th), you can purchase a festival pass at $60. Click here to buy yours now!