Cinematography Masterclass with Iris Ng
Image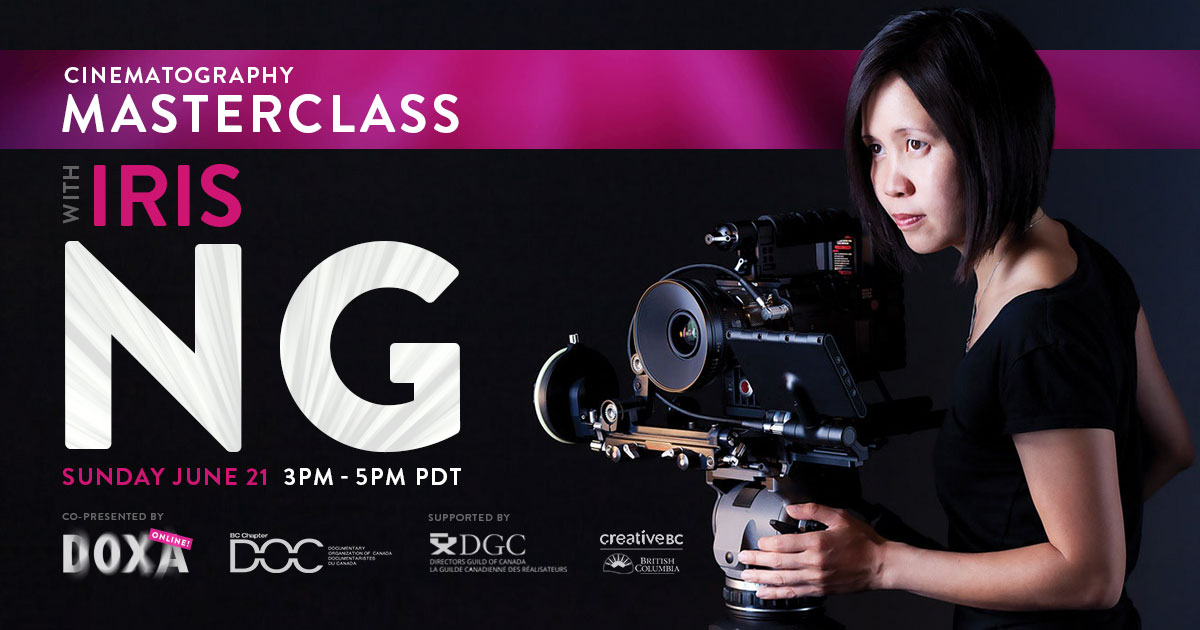 Iris Ng is one of Canada's most prolific documentary cinematographers. Her camera and gaze have sensitively captured the stories in multi-award winning films such as The Stories We Tell (2012), Toxic Beauty (2019), Shirkers (2018), Nuuca (2018), Migrant Dreams (2016), and many more, including the popular Netflix docu-series Making a Murderer. This moderated conversation will take a deep dive into the unique creative process of a documentary cinematographer, drawing excerpts from her own work and notes from the field. A must-attend event for directors, cinematographers and all creatives interested in the power of visual storytelling.
Details
Sunday, June 21st at 3:00 PM PT 
Tickets $6-8 (DOC BC and DGC members, please contact your organization for the promo code)
To register, please click "pre-order" here: https://watch.eventive.org/doxa2020/play/5ecf1629e42f260045fd5d33/5ecf166f307c6e00364ff551
Registration is open to participants from across Canada. DOC BC and DGC members, please contact your organization for the promo code.
After the event, join us for a mixer with your fellow filmmaking community who attended the masterclass, hosted by DOC BC. The details about how to join the mixer will be made available during the masterclass.
About Iris Ng
Iris Ng is recognized as a versatile cinematographer, who lends her patience, creativity, intuition, and skill to bring a director's vision to the screen. For over a decade, Iris has collaborated with award-winning directors Sarah Polley, Min Sook Lee, Fredrik Gertten, Vikram Jayanti, Michelle Latimer, and Martha Burns on a variety of documentaries while shooting a wide variety of films for artists such as Chris Curreri, Oliver Husain, Bambitchell, and Richard Fung.
Iris was intrigued at an early age by the photos and Super 8 movies that were created and preserved by the image-makers in her family. That discovery – that it is possible to capture the essence of a moment – has become a lifelong influence in her creative work.
After obtaining her BFA in Film Production from York University, she has honed her craft shooting over sixty projects in many facets of the industry, from narrative, art and documentary films to commercials, music videos and episodic television. In the process, she has had the opportunity to work in Asia, Africa, Europe, and across North America.
Iris brings a visual arts background to the projects she works on – which allows her to approach the work abstractly and conceptually, before tapping into the technical skills required to bring a director's vision to screen. Iris is known for her intuition and patience balanced by strong technique.
She is equally comfortable working in the latest digital formats as well as 35mm, 16mm and Super 8 film, according to the needs of the story or concept. While her work has been screened in festivals and installations around the world, Iris' goal continues to be to capture the essence of the moment in the medium, regardless of the size of the project.
Getting ready for the event
We encourage all participants to watch some of Iris Ng's work before the masterclass in order to make the most of the session and Q&A. Some of the films that be referenced include:
Co-presented by DOC BC
Sponsored by the Director's Guild of Canada and Creative BC.