(War On) Drugs, Social Movements, and Liberation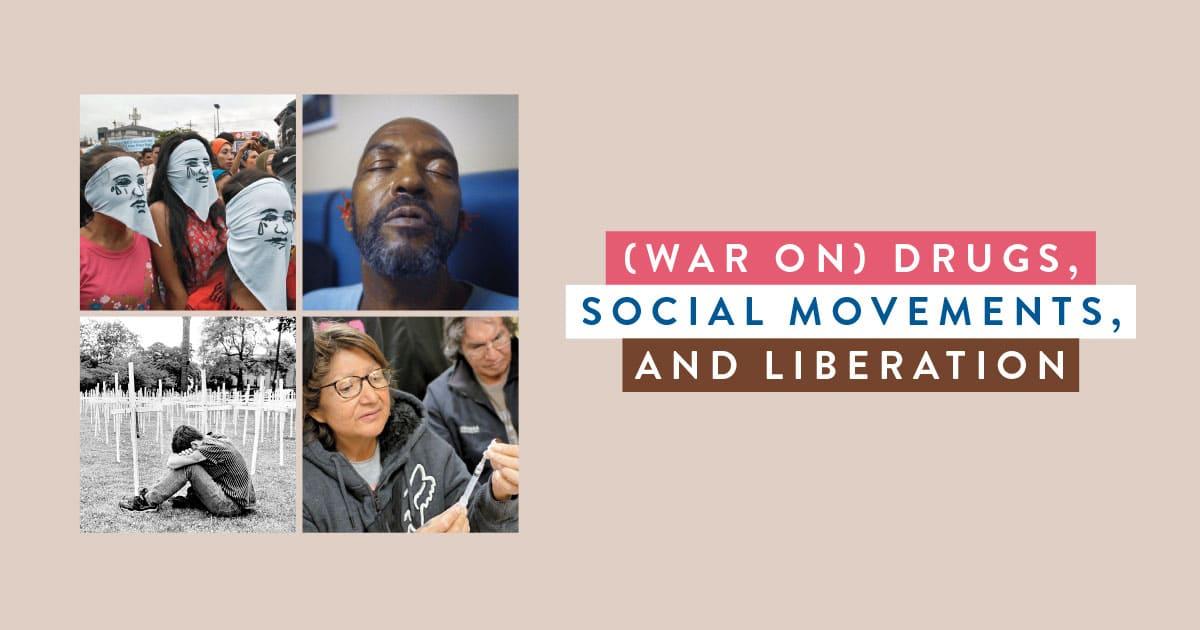 In the last four years, we've seen a lot of casualties in the war on our community.
Deaths from overdose have shot through the roof as public health measures have failed to keep pace with shifts in a ruthless, highly profitable and rapidly changing drug market that remains criminalized. Compounded to this are deaths from pneumonia, from exposure, from falling, from liver failure, from all the sources of premature death that are made to disproportionately affect poor and oppressed people . . .
THE WAR ON DRUGS IS A WAR ON US.
For us, deaths from overdose are not separate from these other causes of death. They are our neighbours, siblings, aunties, spouses, children and friends. They leave a gaping hole in our community—a silence filled with names and faces that haunt our lives.
For us, the war on drugs isn't separate from the other wars waged on our community. It's not separate from the war on the poor. It's not separate from the 500-year war on Indigenous and colonized peoples. It's not separate from the war on Black people and the plunder of Africa. It's not separate from class war.
THE WAR ON DRUGS IS A WAR ON US.
In selecting the films for this program, VANDU want ed to show films that represent us as we are: not as poor, downtrodden victims of drugs and addiction, but as a community—sometimes a community of survival, but also sometimes as a chosen family and a community of interest. People struggling to survive and people fighting back. We wanted to select films that would raise important questions, not only about our oppression, but about our liberation:
How do drug users organize and fight back against the drug war?
How are drug user movements woven into other movements of poor and oppressed peoples?
What does liberation look like for people who use drugs?
The films selected demonstrate how the war on drugs is a global war on poor and oppressed peoples. They document how addiction and drug use cannot be policed, prisoned, health-cared or social-serviced away, but must instead be addressed by social movements seeking to transform oppressive systems from below. Finally, they prove that only the leadership of organizations by people who use drugs can determine the path towards our own liberation. Nothing about us, without us.
THE WAR ON DRUGS IS A WAR ON US.
Since President Rodrigo Duterte's election in 2016, the Philippines has be - come a frontline in the global war on drugs. Alyx Ayn Arumpac's film Aswang (2019) crawls through Manila's urban poor communities, exposing those who profit from the war on drugs and those who pay the price. It's a film where the villain never shows its face, documenting a country that has become one of the most dangerous places in the world for drug users, trade unionists, human rights defenders and, notably, journalists. Arumpac's document of Duterte's crimes is an act of courage and resistance. It is a platform for the voices of the poor in their despair and desperation—and in their anger. It also offers glimpses of powerful resistance from our comrades in KADAMAY, RISE UP and the people's mass movement in the Philippines.
"WHAT DOES LIBERATION LOOK LIKE FOR PEOPLE WHO USE DRUGS?"
Mia Donovan's Dope is Death (2020) grapples with the real problems that ad - diction and problematic drug use pose in poor and oppressed communities, and how movements and institutions invested in the health and self-liberation of individuals might address these issues. It revisits the Black Panther Party and Young Lords' Lincoln Detox centre, which combined peer support, political education and community-led health care as an alternative to police, prisons, social workers, child 'protection' services, coerced treatments and other conventional responses to addiction. Dope is Death surveys the social relations of addiction, resistance, mutual aid, self-determination and state repression, and binds them in a narrative that reveals a twisting path toward liberation.
Nettie Wild's FIX: The Story of an Addicted City (2002) is a document of VANDU's history. The radical organization of people who use drugs in the Downtown Eastside, and our struggle for the basic dignity of appropriate health care in the form of a supervised injection site, changed our neighbourhood and—just as importantly—changed the expectations and aspirations of people who use drugs in our community. FIX is a snapshot of a moment of mobilization and resistance built on the painstaking work of grassroots organizing, community-building and democratic processes that have characterized VANDU over its 20-year history.
The plague year spelled death for drug users and the Downtown Eastside, with infection being the least of our troubles. A recorded 1,716 lives were taken by the drug war in BC in 2020, representing 4.7 deaths a day—a 74% increase over 2019. Organized state abandonment, revanchist policing and forced containment in so-called 'supportive housing' suffocated our community as the rest of the city fortified their condo enclaves.
In spite of the carnage wrought upon us, we continue to organize and survive.
Kímmapiiyipitssini: The Meaning of Empathy (2021) depicts the various forms of community and state response to the fentanyl crisis in the Blood 148 reserve in Alberta. Users and their families navigate the complex and often conflicting systems of traditional Indigenous leadership and settler government as fentanyl rips through the rez.
As an organization with a considerable Native membership, VANDU has long recognized the importance of centering Indigenous elders and the passing on of knowledge and mentorship to combat the continued genocide of young users. The Western Aboriginal Harm Reduction Society (WAHRS), founded by VANDU members, welcomes Native users who arrive from the reserves. Much like the story of Blood 148, the fight for basic harm reduction outside coastal city centres is still far from over.
One highlight of the film is its focus on illicit alcohol drinkers, a group often marginalized in the drug user movement despite evidence that nearly a third of all victims of overdose are found with alcohol in their systems. In 2012, VANDU leaders formed a caravan to meet and organize with alcohol users across the province. Learning from their struggle, we formed the Eastside Illicit Drinkers Group for Education (EIDGE). To this day, EIDGE continues to combat poison supply and criminalization, in part through the development of community-led Managed Alcohol Programs (MAPs).
"IN SPITE OF THE CARNAGE WROUGHT UPON US, WE CONTINUE TO ORGANISE AND SURVIVE."
VANDU's activism has had a long arc. As of late 2020, municipal and federal actors have at last committed to decriminalizing possession (though they are, unsurprisingly, dragging their feet on the issue), and harm reduction culture is becoming normalized across the country. But as our survival practices become institutionalized—and become an industry (a highly profitable one at that)— we must remember our radical roots. VANDU is a movement organization. In presenting Elle-Máijá Tailfeathers's Kímmapiiyipitssini, we extend solidarity to our brothers and sisters throughout Turtle Island, not just to those struggling for the liberation of drug users, but also for the sovereignty of Indigenous nations and the survival and flourishing of poor peoples everywhere.
- VANDU Board of Directors
Dedicated to the memory of Ron Kuhlke, VANDU, WAHRS, and EIDGE leader
Films in this program