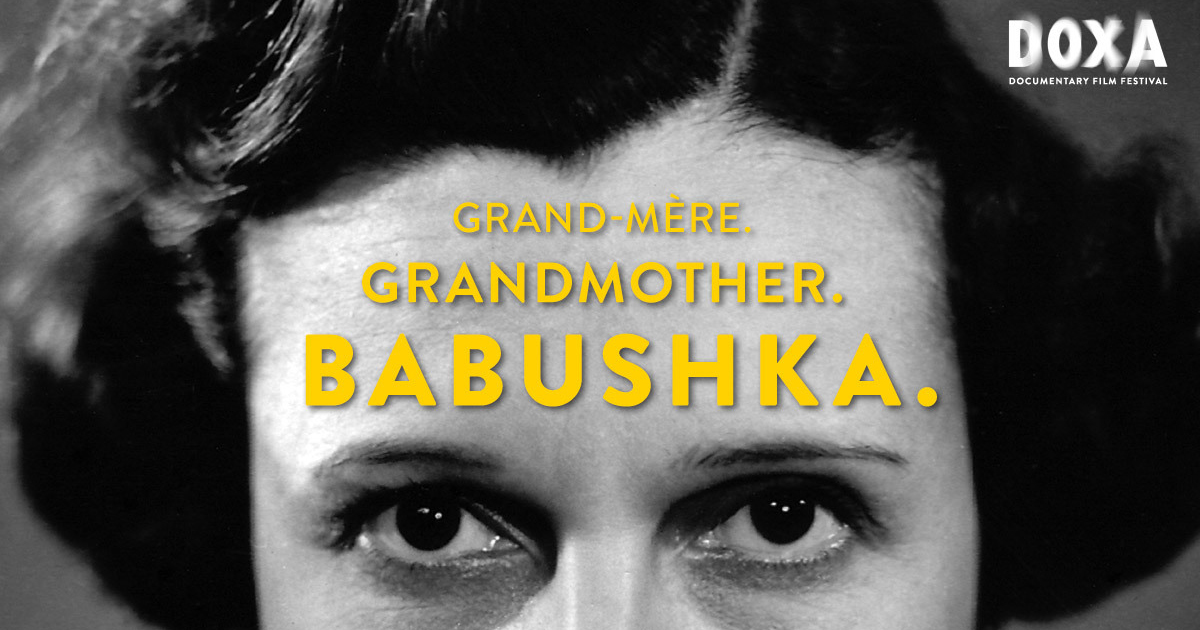 GRAND-MÈRE. GRANDMOTHER. BABUSHKA.
When I was offered the fantastic opportunity of curating a program carte blanche for the equally fantastic DOXA festival, my first question was: what theme would be interesting to reflect upon? After two years of COVID, periods of isolation, pain and sometimes loss, fear, intermittent hope, anger. . . the programmer in me wasn't in the usual programming state of mind. What would be a good subject that could reunite people in movie theaters, giving them something to share and discuss?
Well, the first and ultimate answer appeared: grandmothers. Abuelas, nonne, mamies, babushki. . . I have a strong belief that an older woman in a film tends to immediately resonate as a "grandmother figure" for the viewer. That's how it works for me: she might be terrible and angry, totally off the wall, or sweet and soft spoken—there's always a certain recognition. It doesn't work the same way with older men, nor with adults or kids (perhaps babies can sometimes have a certain universal cinematic identity). But older women, whether they be grandmothers or without children, offer us a figure to look up to. And right now, as a new war has begun, that's exactly what I wish we could all gather around and share. A grandmother.
We know that any memory "we keep" is a recollection, and that any memory we recall is a combination of what happened, how we interpreted that event in the moment, and the way our brain interprets it now. . . Memories should always be given artistic license. Maybe every memory, just like every dream, is a film we direct for ourselves.
Older women have it all: a wealth of experiences, and the power to bring those experiences to life now. Their stories, memories, histories, and fantasies connect past and present. From the way they dress, the wrinkles on their faces (or absence of them), to the look in their eyes, older women who agree to be filmed and share their memories have so much to offer, and can reach a level of outspokenness that is liberating. The freedom of not caring, and expressing whatever's on their mind.
The first person I thought of who fits this description was Odette Robert, Jean Eustache's "badass" grandmother. Sitting for almost two hours with her dark glasses, smoking and drinking whiskey, the very old Odette delivers the (painful) story of her life in Eustache's 1971 film Numéro Zéro—a solo performance captured in one take (using two cameras to ensure continuity). Sitting in front of her, with his back to us, Eustache invites the viewer to be the third person at the table, and to listen to grandmother Odette. Two years earlier, Eustache had acknowledged the overwhelming power of speech in his renowned masterpiece The Mother and the Whore, and here he reaffirms the ability of words to blur the line between reality and fiction.
This takes us to the program itself. Because the pact between fiction and reality is so important, especially in the process of memory, animated docs are for me a never-ending field of discovery. In the beautiful short Drop by Drop (Agua Mole), Alexandra Ramires and Laura Goncalves use animation to preserve the memories of dying villages in the Portuguese countryside. Produced in 2014, the directors met with the remaining inhabitants of these villages, now very old, who tell the story of a land that is being dried out from its life, drop by drop. Animation enables the directors to give a face and shape to the nameless force transforming peoples' lives.
A film with a hopeful spirit, Alain Cavalier's Illusionist (1992) documents the women working disappearing jobs in Paris, creating portraits of their manual work through memories of a piano tuner, a flower seller, a corset designer, and the memorable illusionist  herself, Antoinette. With her art of magic and her peaceful view on life, Antoinette is every bit the ultimate Grandmother, sharing with us more than just skill but the art of living happily. A French director who's been working independently for years, Cavalier uses a very simple and intimate setting to elevate what looks like a modest chat into something intensely philosophical.
Naomi Kawase, abandoned at birth and raised by her uncle and aunt, began her film career with a comprehensive series of documentaries focused on her family. After meeting her mother as an adult, she chose her as the subject of her film Ten, Mitake (See Heaven, 1996), an experimental short filmed using an 8 mm camera, no direct sound, repeating images and slow motion. The film became a ritual between the director and her mother, and in one sequence, the playful Kawase films herself jumping over her sitting mother. Silent and still, her mother appears as a mystery. 
Barbara Hammer, an American director, explores her Ukrainian roots in My Babushka: Searching Ukrainian Identities (2001). While Hammer had a very important career in the experimental field, this film is more traditional—a personal and political exploration of the country that resonates so much in today's world. Hammer travels to Ukraine to meet her relatives and older women from her family's village, experiencing a wealth of emotion as she does and bearing witness to a country transforming. Indeed, Ukrainians are at the moment in their history when feminists and LGBTQ+ movements have begun to express their freedom. The babushki we see in the film are as much a symbol of the strong roots of the country as a connection to its moving present. 
I am infinitely grateful to the directors who agreed to share with us their mothers and grandmothers, among them Stéphane Riethauser, whose very moving film Madame (2019) is based on his personal family archives. Born to a very wealthy Swiss family, Riethauser struggled to reconcile his homosexuality with the expectations of his family, for whom there was only one path ahead: to marry a woman and start a family. Surprisingly, it's in the personality of his grandmother that he was able to recognize himself the most. Being a rebel herself, long before him, she structured her life far outside the expectations of her family. In this double portrait of a grandmother and grandson in a mirror, Madame manages to be both intimate and global, exploring how social rules can be a prison. 
Chantal Akerman's No Home Movie (2015) seemed like the best way to finish this program. The director decided to film her mother during what was to become Akerman's final months, and this would become Akerman's final film. A survivor of Auschwitz, Akerman's mother is seen here in her apartment, or in the small frame of a computer, and the intimacy and love between the two is overwhelming. It's also fascinating to see Akerman make a documentary that so closely resembles her fiction films: the long shots, the feeling of the character being "framed." Again, cinema blurs the line. "Chantal thought it was her easiest movie, that it could connect with everyone, that anyone could find here an echo of their own personal life, their own intimacy." (1) Witnessing the relationship with her aging mother, yes, we necessarily connect. Perhaps the Universal Grandmother Figure might have something to do with it. 
Laurence Reymond
Guest Curator
View the films in this program.
Claire Atherton, the film's editor, Telerama, 24.02.2016