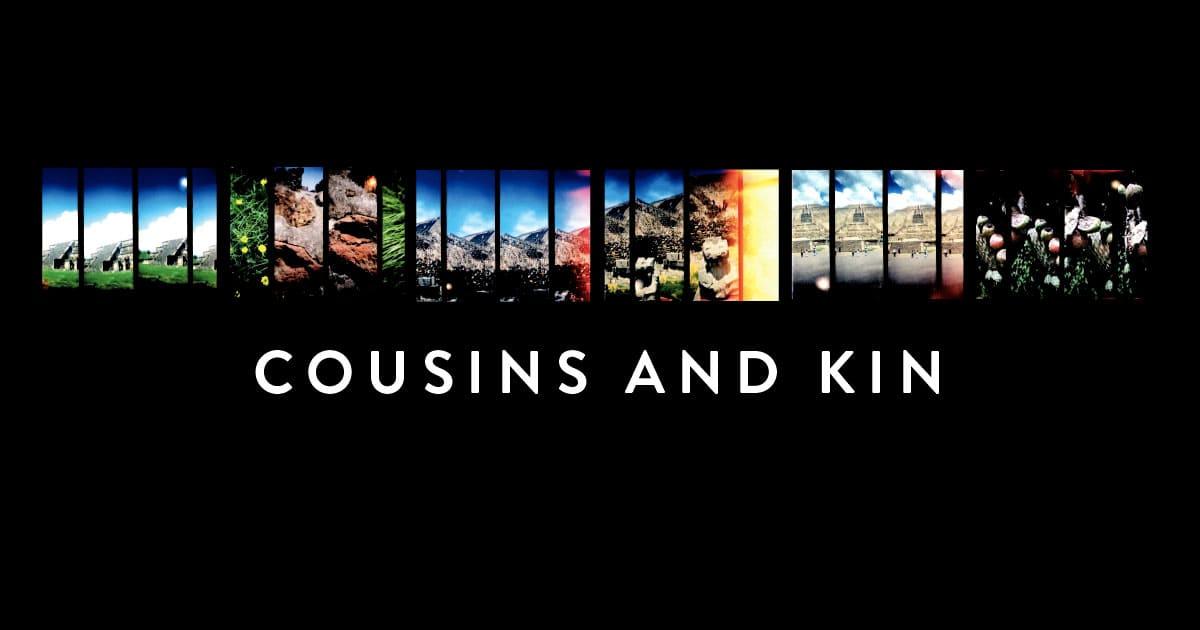 Written by Sky Hopinka on behalf of Cousin Collective
A bit of background on us: The Cousin Collective formed in the summer of 2018 at the weeklong Flaherty Seminar in upstate New York. Myself, Adam Khalil, Adam Piron and Alex Lazarowich were all there together, perhaps for the first time. In that space, discussions around documentary filmmaking, race, representation and power were prevalent, and we found ourselves drawn to the idea of having these conversations about Indigenous cinema, and specifically Indigenous experimental cinema, as it's an often underrepresented form without much support in terms of either funding or play. Over the course of that week, the four of us talked a lot about questions surrounding what the genre could do: What are its ethics? What should we show, and what don't we share? What do we not have to explain, and what are ways that we could resist the didactics that are often expected of Indigenous filmmakers? Why contextualize for non-Indigenous audiences when we really want to be making works for Indigenous audiences themselves? There were lots of questions, and not enough voices in the conversation. With that we began organizing and planning, and were able to secure some funding from the NY-based non-profit Cinereach. We put out a call for proposals, and from that selected 10 filmmakers to be a part of Cycle 1, the first in a cycle of support to help fund more experimental film projects and installations. Eventually we would like to have a seminar of our own, to support more artists and build a community where we can help each other navigate the film and art worlds in ways we don't yet understand. But where we began and where we begin is with film.
At its best, experimental cinema is a medium expressive of a multitude of voices. It can be democratic, and it can reflect individuality and perspectives often overlooked and ignored. Less generously, it can be another style of filmmaking defined by outdated and essentialized ideas of what constitutes form. Still, it is this tumultuary aspect of that conversation where exciting and new things can happen. How does one embrace a form that is defined by both its disregard for and dependence on tradition? It's not that much of a leap to see the parallels between this and what Indigenous filmmakers are grappling with today in terms of evaluating, determining and questioning what "tradition" is in so many contexts. What do we hold on to and what do we let go? I'll leave that question vague and airy.
The three programs we've selected are a glimpse into these conversations and questions. One of the things we've found as we formed our collective is the richness and vastness of the works being made by Indigenous peoples who are thinking of the same things we are, as well as so much more that we weren't or had missed. Our first cohort of support involves 10 filmmakers, and we're showing a selection of their works in the Cousin Showcase: Shorts Program. Due to the pandemic, projects we supported were put on various states of hold in different stages of progress. As a result, we felt like this is a good opportunity to show earlier works of these directors. The five filmmakers from Cycle 1 we selected for this program here at DOXA are Fox Maxy, Miguel Hilari, Woodrow Hunt and Olivia Camfield, and Eve-Lauryn LaFountain.
The next program is titled What was always yours and never lost, and is a constantly evolving program I've been curating for a number of years. This is its most recent iteration, as screened at the Whitney Biennial in 2019. Featuring the works of Caroline Monnet, James Luna, the New Red Order, Thirza Cuthand and Colectivo Los Ingrávidos, this program is a way of looking at the ways genre can be challenged, and the filmmakers who are actively doing so. The last program in the series consists of the singular Honey Moccasin by Shelley Niro. This film from 1998 does so much, was ahead of its time, and has been an inspiration to all of us in Cousin. We've tried to show and share it whenever we can, and we're happy to have the opportunity to share it with you here.
There's still so much more we wish we could screen, so many artists and filmmakers whose works should be seen and experienced. There's much more conversation to be had, and again, so many more voices we need to hear from and make space for. This is our contribution to the continuing conversation about what Indigenous cinema is and where it could go, and we're looking forward to the future, to new voices, new forms and the new cousins and kin we'll meet along the way.
Films in this program
Bocamina (Pithole) (Dir. Miguel Hilari)
San Diego (Dir. Fox Maxy)
We Only Answer Our Landline (Dirs. Woodrow Hunt and Olivia Camfield)
Giizis Mookaam Giiwe (Dir. Eve-Lauryn LaFountain)
Creatura Dada (Dir. Caroline Monnet)
Impressions For a Sound and Light Machine (Impresiones para una máquina de luz y sonido) (Dir. Colectivo Los Ingrávidos)
Itzcóatl (Dir. Colectivo Los Ingrávidos)
Less Lethal Fetishes (Dir. Thirza Cuthand)
Halpate (Dirs. Adam Khalil & Adam Piron)
Just Dandy (Dir. Thirza Cuthand)
Gephyrophobia (Dir. Caroline Monnet)
Mobilize (Dir. Caroline Monnet)
The History of the Luiseño People (Dir. James Luna)