Image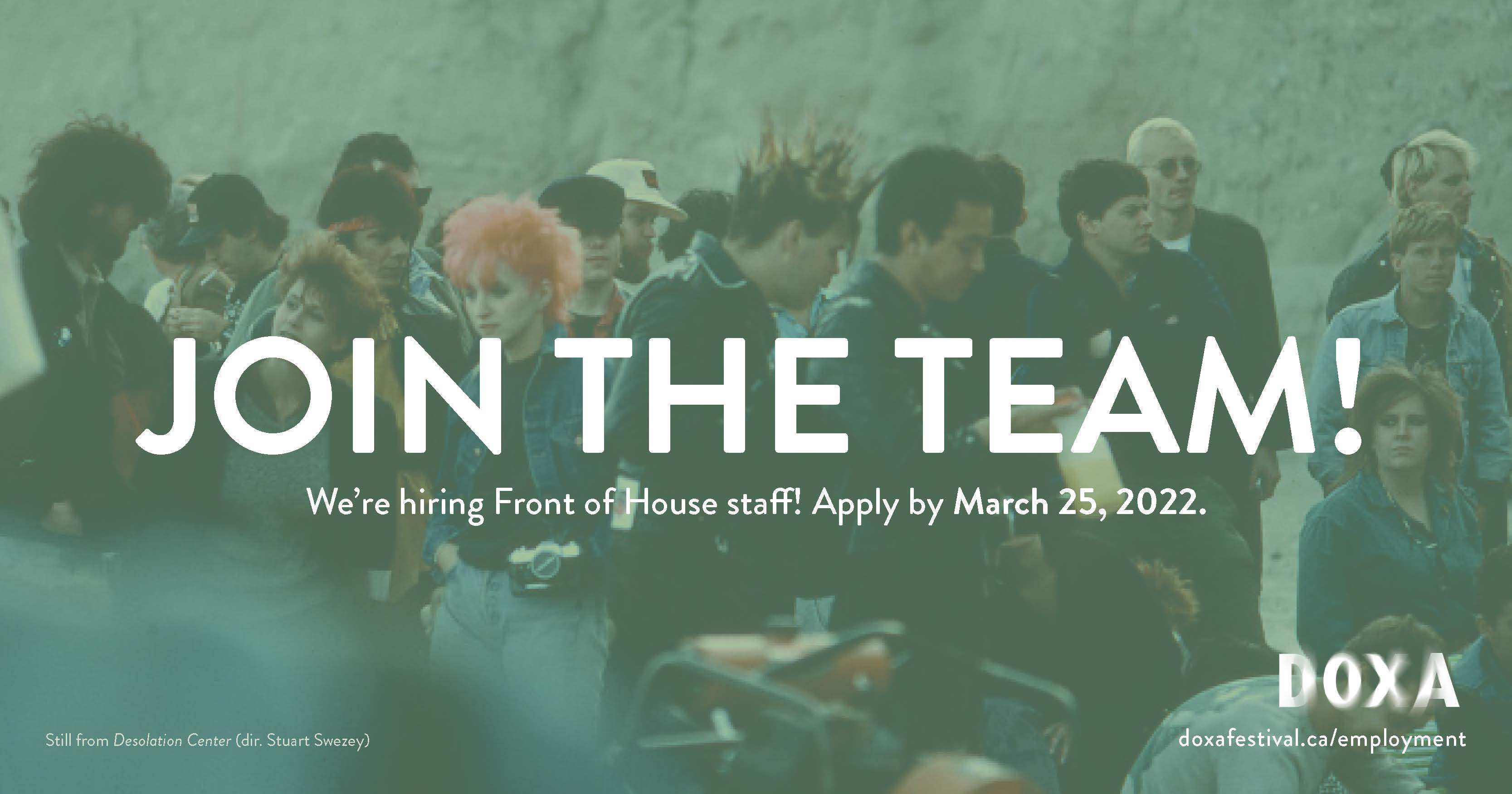 We're looking for Front of House staff to join the DOXA 2022 team! Could it be you, or someone you know? The deadline to apply as either a Front of House Manager or Box Office Ticket Attendant is March 25, 2022.
Front of House Manager:
Reporting directly to the Box Office Coordinator and Operations Manager, the Front of House Manager(s) will assist with all aspects of managing the front-of-house during in-person festival events. The FoH Manager is responsible for creating the best experience possible for patrons. In order to execute this duty, you must maintain a friendly, helpful and professional attitude, and be knowledgeable in all areas of audience services. The FoH crew will be the patrons' first encounter with DOXA, and it is imperative that this be a positive encounter!
To read the full job description, including a list of responsibilities, click here.
Box Office Ticket Attendant:
Reporting directly to the Box Office Coordinator, the Ticket Attendant(s) will track sales through manual systems and/or computer software, and reconcile tickets sold against revenue for film screenings on a daily basis. Troubleshooting and dealing with ticketing issues as they arise in a calm and respectful manner is key. All applicants must have excellent computer (preferably Mac) skills and the ability to work independently within a team setting.
To read the full job description, including a list of responsibilities, click here.
•••
Our Values: 
DOXA works hard to cultivate an equitable, accessible and respectful environment both in our organizational day-to-day and in festival offerings. One of DOXA's founding principles is to engage with a diversity of curators, filmmakers, academics and activists to illuminate the intersections of social, economic and environmental injustice. We believe that documentary cinema holds power within moments of social momentum and change, and is a valuable tool in interrogating unjust systems. We also believe in anti-racist education, increased mental health services, income and housing security, harm reduction services, accessible rehabilitation, public arts and cultural programs, decriminalization, transformative justice, and other vital community-based systems. We believe that an investment in documentary film should be informed by a parallel investment in these tools for change.
•••
Do you possess a passion for the arts and a knack for working with the public? If the answer is yes, and you thrive in a flexible and creative environment, we want to hear from you!
We strongly encourage applicants with lived experience, from Indigenous communities, people of all races, ethnic origins, religions, abilities, sexual orientations and genders to apply. Your lived experience, as it relates to our work, will be valued. All candidates must be eligible to work in Canada, and must be fully vaccinated against COVID-19.
Remuneration: $19.50/hour
Contract: May 1 - May 15, 2022
To apply, email your cover letter and resumé to hr@doxafestival.ca, attn: Gina Garenkooper, Volunteer Services and Operations Manager. Deadline to apply is March 25, 2022.
We thank all candidates for applying; however, only those selected for an interview will be contacted.