Image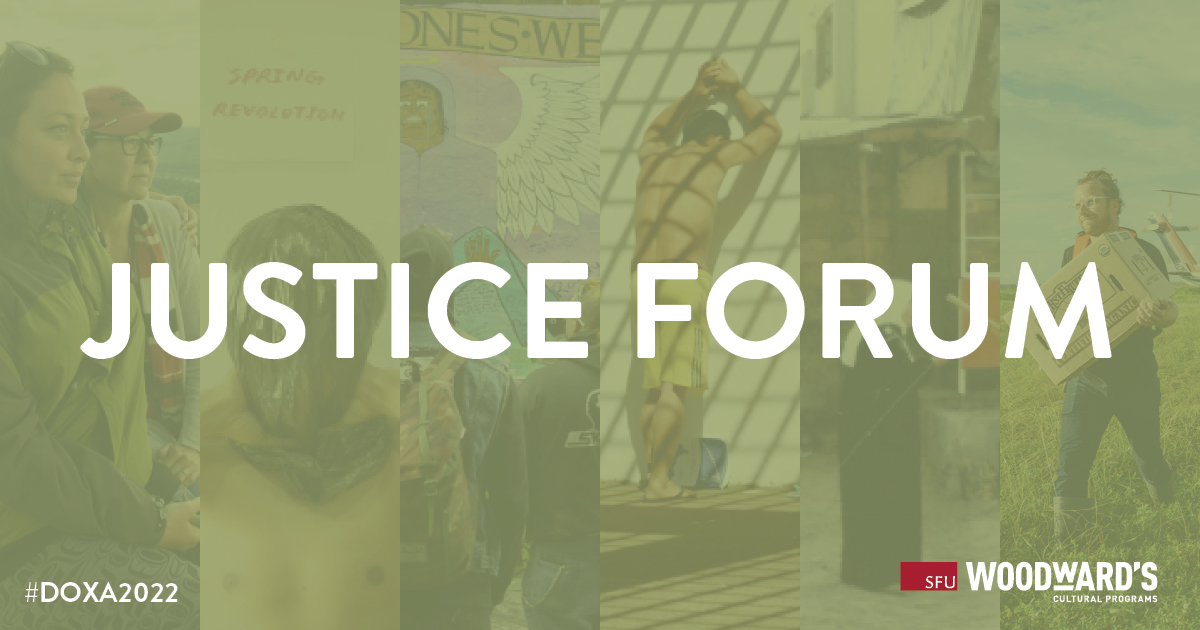 For 12 years, the Justice Forum has been one of DOXA's cornerstone programs, showcasing films that facilitate active and critical engagement, create space for dialogue and sow the seeds for social change. Each Justice Forum film is paired with a live or pre-recorded conversation between speakers relevant to its issue, including filmmakers, experts in the field, academics and/or community activists. We're excited to offer a selection of films that foster crucial conversations around a broad range of social issues, offering necessary perspectives for change and progress.
This year's Justice Forum is co-presented by SFU Woodward's Cultural Programs.
Love in the Time of Fentanyl
Colin Askey, Canada/US, 2022, 85 mins
When the opioid crisis in BC escalated to the heights of a public emergency in 2016, the Overdose Prevention Society set up a tent in Vancouver's Downtown Eastside as a frontline response. Love in the Time of Fentanyl is an intimate observation of the OPS over a number of years, and bears witness to the exhausting work required to keep the site running and the people dedicated to its continuance.
Myanmar Diaries 
The Myanmar Film Collective, Myanmar/Netherlands/Norway, 2022, 70 mins
Oscillating between the real and almost-real, Myanmar Diaries combines the works of 10 anonymous Burmese filmmakers, whose revelatory short fiction pieces merge with harrowing, on-the-ground footage of the country's military takeover in February 2021.
We Feed People
Ron Howard, US, 2022, 89 mins
Chef José Andrés and his nonprofit World Central Kitchen respond to humanitarian emergencies with one thing in mind—fresh and hot food for those affected. From the Haiti earthquake of 2010, to Hurricane Maria in Puerto Rico, veteran filmmaker Ron Howard chronicles the intense evolution of World Central Kitchen over a 12-year period.
Wochiigii lo: End of the Peace
Heather Hatch, Canada, 2021, 85 mins
From local Haida filmmaker Heather Hatch, Wochiigii lo: End of the Peace is a powerful and unflinching look at the controversies surrounding Site C, the third mega dam to be built over Peace River in northern BC, right in the heart of Treaty 8 territory.
I'm Still Alive
André Bomfim, Brazil, 2021, 87 mins
In Brazil, overcrowding and violence in the country's prison system have led to an expansion of prisons. André Bomfim's intimate film shows how integrated therapies and restorative approaches in some Brazilian prisons are offering a radically different, and more humane, alternative.
The First 54 Years - An Abbreviated Manual for Military Occupation
Avi Mograbi, Israel/Finland/France/Germany, 2021, 110 mins
Esteemed filmmaker Avi Mograbi cuts to the core of a military occupation by describing its strategy in blunt and certain terms, compiling vivid archival footage and extensive interviews with soldiers, military commanders and other officials of the Israeli state employed during the first decades of takeover in Palestinian territory.
•••
To view our catalogue of theatrical screenings, click here.
To view the online festival program, click here.