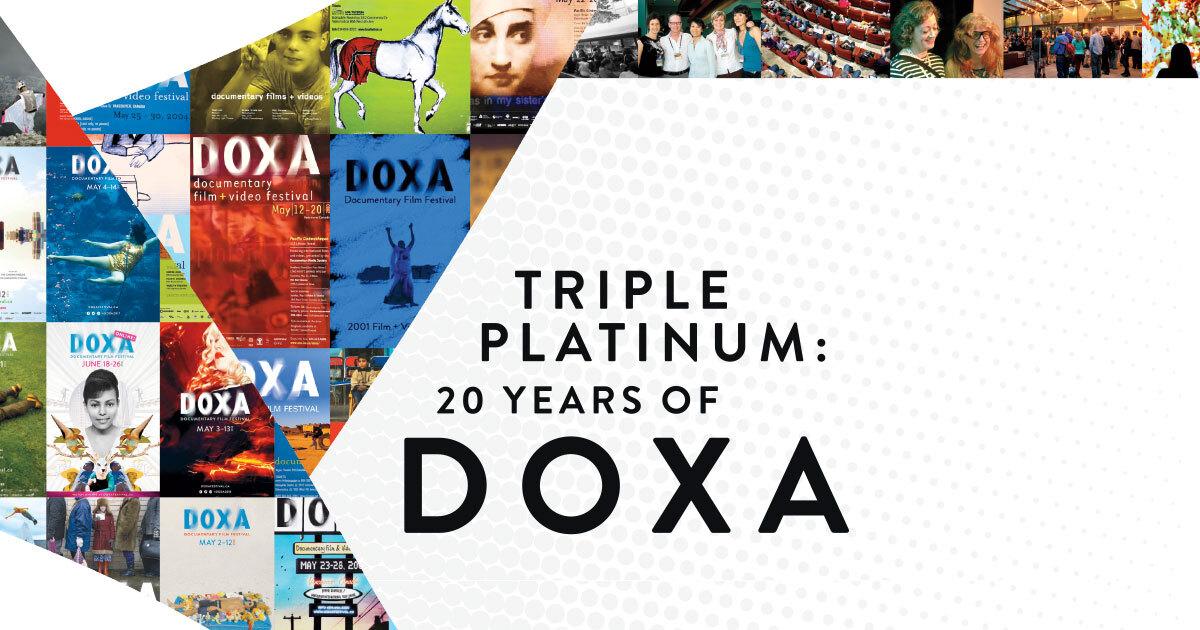 Kris Anderson
DOXA Founder and Festival Director/Programmer from 1998–2010
I started DOXA in East Vancouver with a small group of women shortly after moving west from Winnipeg. We brought our life experience and our feminism with us, which contributed to the culture of the organization. The goal of the festival was to celebrate the art of documentary filmmaking in a community-based, conversational and collaborative atmosphere. Guest curators were invited to contribute programming along with essays about documentary filmmaking, and to host discussions about the art of documentaries as a medium. These were elements of DOXA from the very beginning. For many, the festival was a respite from broadcast pitches, funding workshops and film competitions; we heard from filmmakers that it was a relief to be at an event focused on the films, meeting other filmmakers and connecting with the audience. Although I left the organization 10 years ago and haven't attended the festival for some time, it pleases me to see that DOXA is still a festival for filmmakers and the community, who are of course one and the same.
The films I have selected for DOXA's 20th Festival (Afghan Girls Can Kick and Six Miles Deep) celebrate women who, against great odds, are changing the world, beginning in their own communities. These women are among the revolutionaries of our time. When Selina Crammond invited me to select films from earlier festivals, I pulled out the 2000–2010 program books. I had to choose from hundreds of films, so I needed a focus or it would be impossible to make selections. I have often been drawn to quiet, observational Nordic docs or gloomy, complicated stories of survival, but for this event I wanted to focus on stories about women changing the world. First, I decided to select films made by female filmmakers. On the shortlist was Frances Reid and Deborah Hoffman's film, Long Night's Journey Into Day, DOXA's first opening night film from 2000; but it had received wide distribution, so I narrowed my focus to films about women struggling against the patriarchy. This list included On Hostile Ground (Liz Mermin and Jenny Raskin), Sisters in Resistance (Maia Weschler), The Cucumber Incident (Melodie Calvert and Bonita Makuch), Remains (Samare Gozal and Astrid Schau-Larsen), Club Native (Tracy Deer), Say My Name (Nirit Peled), Rough Aunties (Kim Longinotto), Sin by Silence (Olivia Klaus) and Africa Rising (Paula Heredia). I mention these titles because I want people to know about these films.
The struggle for change is often led by women, but it's more likely that men are written into history. As women make gains, the backlash can be swift and harsh—like whack-a-mole, a victory for women appears and misogyny ramps up in response. For example, gender stereotypes are more deeply entrenched today (try shopping for kid's clothing or toys); pornography producers promote even more violent sexist imagery to even younger people today; femicide and sexual assault are on the rise. As I write this, a new report from the Canadian Femicide Observatory for Justice and Accountability has determined that the murder of Canadian women by Canadian men is rising, yet most of these crimes go unreported because they take place in private homes. It's a time of great contradictions in this country—systemic sexism is being called out, but the response is all window dressing. The Canadian military has recently released television ads encouraging women to join their organization, while high-ranking military leaders are being exposed as perpetrators of sexual assault. The RCMP is repeatedly investigated for sexual violence and racism within their ranks while recruiting for "diversity" hires. And we can't ignore the crime of police mishandling/ignoring cases of missing Indigenous women and girls alongside the denigration of their families and communities. 
Amid such contradiction and misogyny, the films that inspire me and allow me see the beauty and possibility in life are the stories of women who, despite immense struggles, simply do what must be done. I hope you get a chance to watch these films. Smash the Patriarchy, Defund the Police, Black Lives Matter, Land Back, Solidarity.
Films in this program